As I noted last week, it was time again for a semi-annual journey to the far reaches of Oregon's desolate southern corner for some time away from cell phones, work emails and, yes, family.
Between work, marriage and family, "time for yourself" can sometimes become a rare occurrence – even for single guy these days. It's easy to get stuck in our routines, even when it comes to recreation. That's why every guy should get the heck outta Dodge at some point to reset, refresh and reflect. And ride motorbikes.
While the rest of the city went to work Thursday morning, I saddled up my trusty Suzuki DR650 and eased into freeway traffic.
Though "only" a 650, the DR is no slowpoke, even loaded down with my XL carcass, saddlebags and a full tank of go-juice. In a snap we were up to 65 and beginning the sometimes… exciting climb up Highway 26, a busy (and sometimes bloody) two-laner that traverses the flanks of Mount Hood on its way to Central Oregon.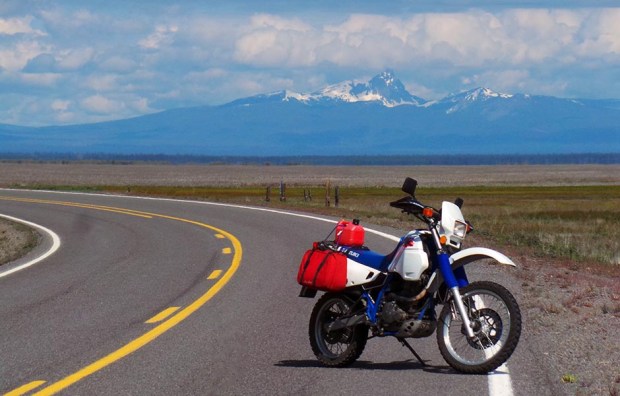 The 26 tops out at about the 5,000 foot mark as it passes by the road to Timberline Lodge. Timberline is a famous Works Progress project and if you get the chance, stop on in, no matter what time of year it is. If you're a skier or snowboarder, bring your gear, it's the only resort open year round in America thanks to the Palmer Glacier, and just checking out the lodge itself is worth the stop. Good food, too.
Once over the hump, it's a fast descent down the mountain to the communities that dot the high desert. But my friend Dave has hooked me up with his secret route, which will trim a half hour off the time to reach the cabin, provided I don't get lost on the tiny back roads he's sketched out.
Despite a Garmin GPS and a cell phone with three sets of maps, I miss a turn and am promptly lost, with fuel running low. Additionally, the jeep track I'm hustling the DR down is downright treacherous in a few spots but I keep upright. And then it starts to rain.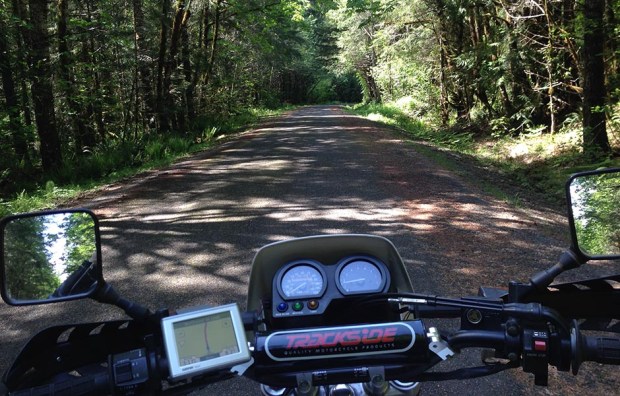 I see smoke in the distance and follow the wisp until it leads to an outdoor burn being tended to by a young woman who seems surprised to see some helmeted rider emerge from the drizzle. She leaves the fire as I fumble with my GPS and that's when dad appears, a stern look on his face. I guess I won't be getting any hot chocolate at this rest stop.
Pops sends me on my way back to my destination, telling me to turn left at the end of his driveway. His driveway ends five miles later, but I'm back on track and arrive at the cabin a bit damp, tired but otherwise no worse for wear.
But no one is there.
Twenty minutes later, the group arrives en mass on motorcycles and a quad, all thoroughly covered in mud. They'd been out on a long ride across the desert, ducking the rain showers. But eventually, they ran headlong into an intense downpour they could not avoid and it made trail conditions treacherous. But since they are all skilled riders, they toughed it out and made it back safely. A few were caught a little short on rain gear and ended up drenched. Lesson learned.
After a change of clothes and some whiskey brought back some smiles, it was time to plan the rest of the weekend. But, like the saying says, while we were making plans, life happened. Or, more precisely, rain happened.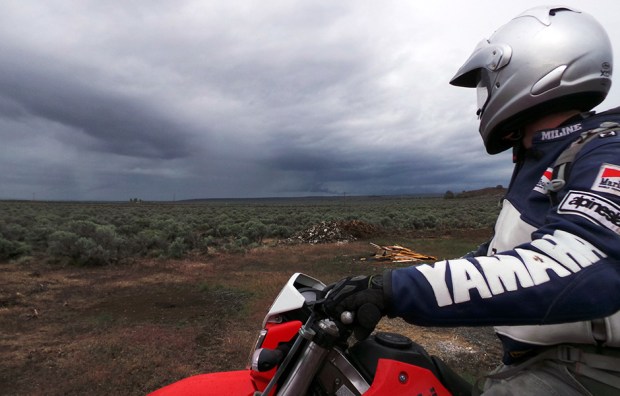 The spotty showers from Day One have turned into a steady soaking on Day Two, and we load the bikes into pickups and trailers in search of drier areas to ride about an hour away (you can do that in the desert). The pelting rain spans the desert, however, so we soothe our disappointment with some Bloody Marys at a bar in tiny Paisley that seems to be open quite early for a Friday – just our luck.
While we wait for conditions to change, Nature apparently thinks the desert needs a good, long drink. The rain keeps falling and we set off again for another area, but the conditions don't improve. Fortunately, there's other fun to be had, so we check out some native American hieroglyphs and then spend an hour soaking in some hot springs, watching as cloud banks march across the desert. Locals say it's the first rain they've seen in a month or more.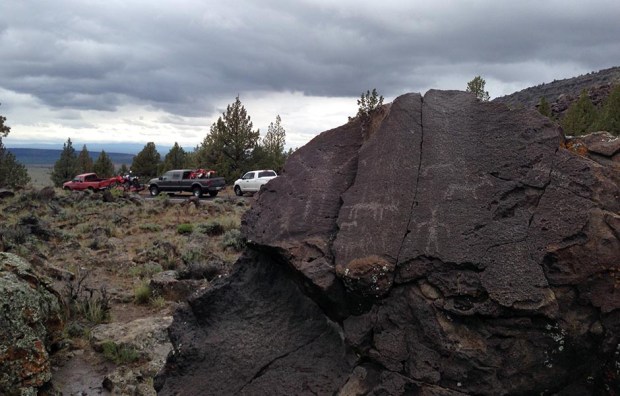 We eventually arrive back at base just as the front appears to be moving out and things begin to dry out quickly – this is the desert, after all. Things are looking up for Saturday.
Saturday dawns cold and clear and the desert has had a chance to dry out (or freeze tight) overnight. After a sumptuous breakfast, we saddle up the bikes but our main man, Dave, has fallen ill with some mystery bug and is not up to riding. That leaves the rest of us to rely on our wits (and maps, and several cell phones and GPS) to find the day's main attraction, Crack in the Ground, on our own.
We immediately become a bit lost – signage is not a strong point along the jeep paths and single track running across the desert – but before we resort to calling in a helicopter to lift us out of trouble, we get our bearings and track down The Crack.
Crack in the Ground runs for several miles across the desert floor, and while you can read about how it formed here, suffice to say it's a slot canyon between towering walls of basalt, large blocks of which has calved off like icebergs and must be climbed to continue our explorations.
The weather remains glorious and after touring the volcanic anomaly, we ride around the desert for several more hours until fuel runs low, as do energy levels.
Bucking down dirt roads, jeep trails and single track on motorcycles is a workout of standing on the pegs and working the bike around obstacles, using your legs like shock absorbers and pumping your arms across bumps, rocks, sagebrush and the occasional (surprisingly deep) mud puddle. Unless you're in solid shape (sad to say I'm not), it can wear you out, but it's the good kind of weary, the kind made better with fellow riders and a home base stocked with chilled essentials and a welcoming fire pit.
We retire to the cabin to check in on Dave, who seems to be feeling a bit better and then we all head to dinner at a local haunt that hasn't changed decor since about 1960. But the food is great, the laughs plentiful and the sky is filled with light as the sun dips below the desert horizon. We round out the night with some laughter around a large fire pit, cigars and beverages at the ready.
Early the next morning, the bikes are put into trailers and pickup beds for the long journey back to Portland, where family, homes and work await.
It's these breaks from routine that remind us that there is more than just workaday duties and life's seemingly endless parade of minutia and annoyances. If you don't have an annual (or bi-annual) escape plan, be it riding motorcycles, mountain biking, rafting or jumping out of airplanes, start planning your next adventure with friends now. The reset button always needs an occasional press.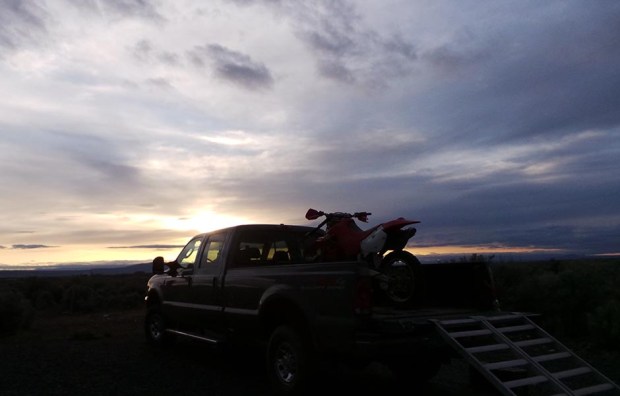 Editors' Recommendations