Big news from BMW for 2016 – there are two new bikes headed to showrooms that should pique your interests, no matter what kind of riding history you have, from rank beginner to seasoned veteran.
BMW makes a large line of bikes and several have received updates for the new year, but the new 310 R beginner bike and the R nineT (say "R-90") Scrambler have my attention.
I touched on how the new 300cc category is on the rise once again as young people (and many re-entry riders) look for ways to get around crowded cities on the cheap without having to buy a car or rely on sometimes unreliable (and often slow) mass transit systems.
BMW is now in on the 300 game with the 310 R, a 313cc single that makes a robust 34 horsepower, which should be enough to get most anyone to anyplace they want to go, even on the highway. But the 310 R (why they just didn't call it the 313 R, which has a much better ring to it, I'll likely never understand) is most likely going to primarily be a citybike, and a standout one at that.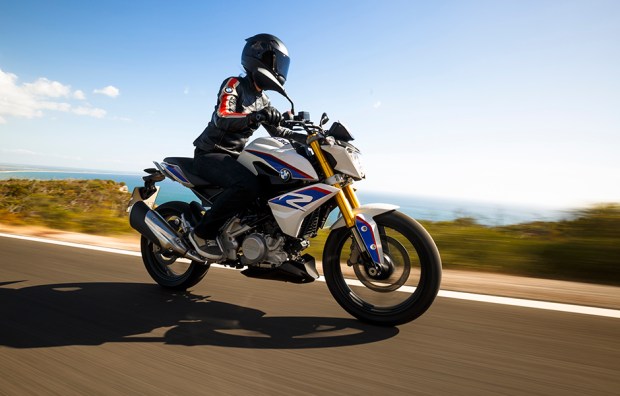 The 310 R's engine is "backwards" in that the digitally measured injected fuel goes in the front of the cylinder head and the exhaust goes out the back of the liquid cooled mill. While I say "backwards," the truth of the matter is that this is how ALL motorcycle engines probably should work as it vastly simplifies exhaust plumbing and makes the passage of air and fuel through the motor take fewer turns, which can add a bit of pep, if only a very little bit. But in this displacement class, every little bit counts.
Additionally, the bike includes standard ABS brakes for those urban panic stops and beginner reflexes. No specific price has been announced, and the bike is built by an Asian partner that has experience making tough-as-nails machines that get abused daily by riders in many developing countries. Expect the tab to compete with other 300-class machines plus a certain premium for the ABS and other features, plus a bit more for that propeller logo on the tank. But still – likely affordable.
As you can see above, it's a smart-looking rig based on the naked bike aesthetic, and BMW apparently recruited their tiniest legal rider for the publicity photos. I would imagine NFL linemen might want to opt for something a bit larger – like the other bike BMW is introducing.
That would be the R nineT Scrambler, a makeover of the popular R nineT naked bike that's part hot rod and part industrial sculpture. BMW has shod the bike with bigger wheels, semi-knob tires, a light-colored leather seat (available in several configurations), plus several optional pretty parts like number plates, headlight screens, cast or spoke wheels, engine guards and so forth.
A little background on the "Scrambler" designation: the term predates "dirt bike," dual-sport" and "adventure bike" monikers, and essentially means a street bike with some different parts, such as high-mount pipes, that allow it to lightly dip a tire or two onto gravel or dirt roads – these are not world-crossing ADV machines.
That said, BMW is offering a fairly large catalog of hop-up parts and accessories, but these are mostly for show and not so much for more go. However, I have seen some Triumph Scramblers kitted out with aftermarket gear that look ready to take on the Road of Bones, so who's to say the R nineT Scrambler can't summit Everest? All things are possible with enough money I suppose.
Speaking of dollars and deutschmarks, the R nineT Scrambler will likely set you back a bit less than its street-only stablemate, so expect a price tag somewhere south of 15 grand but over 10 large.
For your Scrambler-loving dosh you get BMW's famous air-cooled 1,170cc boxer twin engine, which makes 110 hp and a stout 85 foot-pounds of torque. The gas tank goes from aluminum on the roadster to steel on the Scrambler, the bars get a bit more rise, the front hoop grows to 19 inches and the rear exhaust goes from one pipe to a branch of two, although most buyers will likely immediately pitch the stock plumbing for an Akropovic unit in the accessory catalog or some other aftermarket offering that will drop weight and add decibels.
The rolled leather seat looks like a super 70s throwback but with a modicum of class as well. There are solo and pillion options to choose from. Pegs, bars, a bash plate under the engine and other bits give the Scrambler more of a dirt-bike stance, but let's be real: the chance that it ever gets out in the really bad stuff are slim.
Still, with the crumbling and speed-bumped infrastructure of modern cities, a bike with a little dirt in its soul is a good pick for getting around in comfort.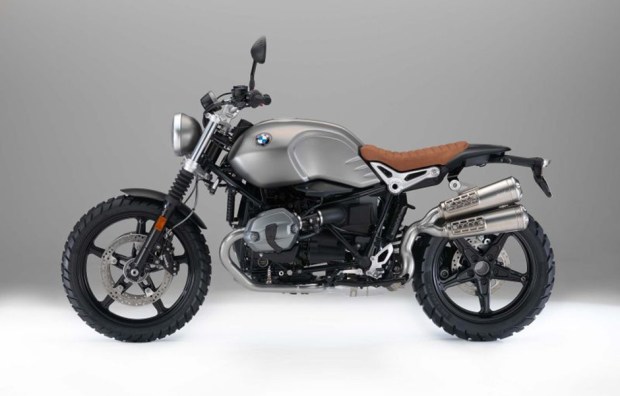 All photos courtesy of BMW.
Editors' Recommendations