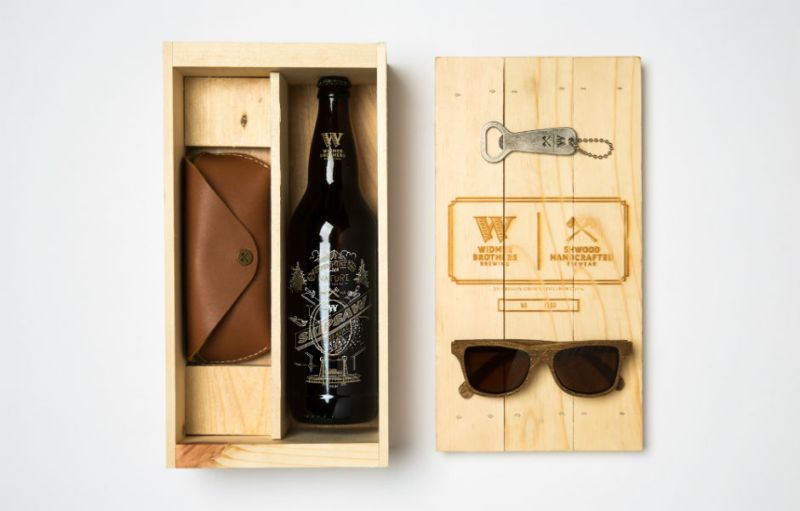 Ah Portland, the land of Pok Pok, Stumptown Coffee Roasters, The Manual's home office, and Shwood and Widmer Bros. The last two, an eyewear company and a microbrewery, recently joined forces for a collaboration that was only made in an edition of 200 that showcases both of their strengths: the Shwood X Widmer Brothers Kit. In it are a pair of Canby Widmer sunglasses, and a bottle of Skipsaw Upheaval IPA packaged in a specially numbered crate made just for the partnership. We quizzed Josh Fulfs, brand manager at Shwood about the collaboration, who designed the custom beer bottle, and more.
An eyewear and brewing company collaboration seems like an odd pairing. How did this come about?
Both Shwood Eyewear and Widmer Brothers share Portland roots and craft our products here in this town. We've admired and respected each other's work for a long time and the time was finally right to work on a project together. We felt that, together, we could make a great product that had never existed before.
How did you go about deciding what the sunglasses would look like?
Through a lot of trials and experimentation. We've liked the look of skip-sawn wood (sometimes used in flooring or furniture for a rustic look) and this project seemed like the perfect chance to utilize that texture. We also knew we wanted to incorporate Widmer's beer into the sunglasses, so we decided that the best way to do that in the staining process, which is what gives the sunglasses their rich brown color.
Even the beer is custom for the collaboration. Who designed the label?
We worked with Portland-based illustrator Jake Hollomon to create the custom label. We incorporated woodworking, beer making, and Portland elements into what we feel is a pretty great embodiment of the collaboration. It was screen printed directly onto the bottle (no paper label!) by Widmer's bottling partner.
Describe the person who makes the perfect recipient of this kit.
This kit is made for the person who enjoys unique and high-quality products. A passion for craft beer and/or sunglasses would be an added bonus.
Are there any future collaborations like this coming up?
We are always working on our next big project. We have several exciting new collaborations coming up during 2015 that we can't wait to share. Keep an eye out!
For more information on The Shwood X Widmer Brothers Kit, visit shwoodshop.com.
Editors' Recommendations