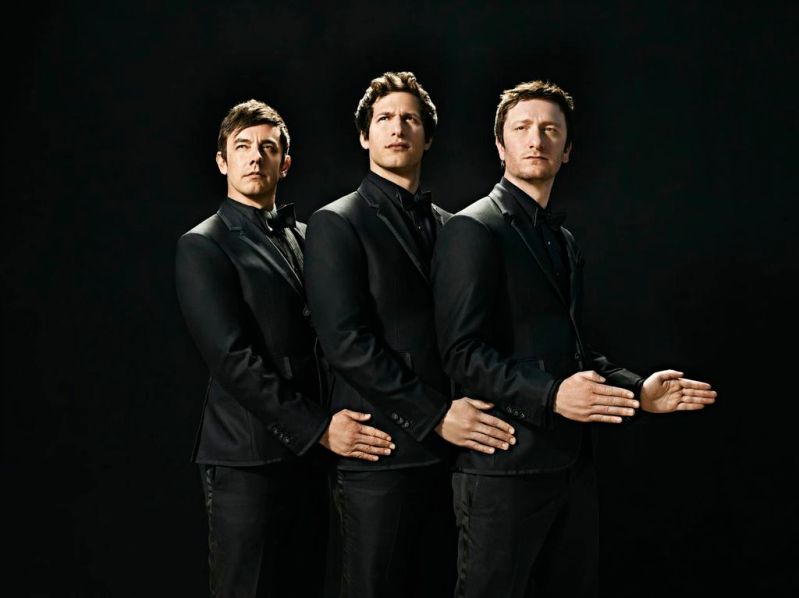 The Lonely Island, the hilarious music trio behind "Lazy Sunday", "I'm on a Boat" and other SNL digital shorts has finally released their third album which is titled "The Wack Album". In case you haven't been on the internet ever, the group is composed of Andy Samberg, Jorma Taccone, and Akiva Schaffer. The three men grew up together in Berkeley, California and ultimately went on to work at Saturday Night Live as writers (and of course Samberg acted). The Lonely Island's tremendous success has allowed them to collaborate musically with multiple artists from Justin Timberlake and Adam Levine, to Lady Gaga and T-Pain.
The Manual was lucky enough to meet with the trio at Universal Records to discuss their comedic influences, their success, and their long time friendship.
What is the dynamic like between the three of you guys?
Samberg: Usually two out of three wins. If two people think it doesn't work it's gone, and if two people think it does, it stays until proven otherwise.
What's the hardest part?
Samberg: It's harder in some ways [working with friends], because you cant get away with anything because we know everything about each other, It's much more of a team effort.
Schaffer: We have the same cultural references, there's no learning period between us about what's going to work.
Taccone:. It's always interesting working with new people, whether we're making a music video or whatever, because the shorthand is so short that people often don't understand how we're even having a conversation because we'll start a sentence and the other person will already know what we're talking about. We're moving at a much faster pace.
Samberg: The short hand is so short it's like a nub.
Y'all are known for your viral videos and have released a new music video every Wednesday (Wack Wednesdays is what they are calling it) on YouTube for the past few weeks to promote the new album. Tell us more about that and what it's like leaving SNL.
Taccone: We're honestly still on that pace, because of Wack Wednesdays – and we're control freaky about all the products we release. We're involved in editing, producing and directing, so the pace hasn't let up at all.
So how does the group come up with their outrageous and catchy music?
Samberg: We have two main ways we make a song. The first is we have an idea and we sift through a bunch of beats until we find one that matches. The other one is we sit in a studio and just listen to beats until the sound or genre of one inspires an idea and then we start writing it.
Samberg, Schaffer and Taccone have had a variety of comedic influences growing up and rattled off a pile of them during our time together:
Taccone : Mel Brooks, Monty Python, South Park
Samberg: Steve Martin
Schaffer: Zucker, Zucker and Abrahams. The early Jim Carey / Sandler Movies.
Samberg: SNL, Strangers With Candy, Mr. Show, South Park. Those are huge.
Thankfully, the group was funny (surprise) and unpretentious, considering the massive success they've gained between SNL and over one billion views on YouTube. The Lonely Island's latest album "The Wack Album" can be found on iTunes. For more information on the band check out their website. And don't yell at us if you get caught rocking out in your cubicle.