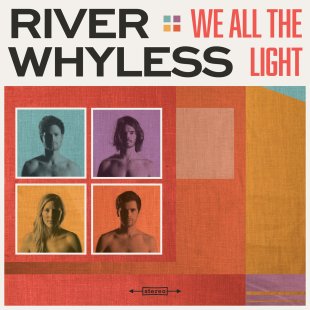 Asheville, NC folk band River Whyless will release We All The Light, its Roll Call debut, this coming Friday, August 26. The band's second album overall,We All The Light is a gorgeous indie pop album performed on traditional folk instruments. River Whyless' vocal harmonies, evocative lyrics, and multilayered instrumentation allow the band to stand out from the indie folk crowd.
Vocal harmonies are a standard element of the indie folk repertoire, so it comes as no surprise that River Whyless perform them throughout We All…. What is noteworthy about it, is the band's proficiency at utilizing them. Opening track "Baby Brother" features gorgeous harmonies in its refrain, but for pure harmonious bliss, bonus track "It Ain't Me, Babe" is unrivaled. The version of "It Ain't Me, Babe" that introduced me to the song is the more rocking live version from The Bootleg Series Volume 5. I mention this only to emphasize how powerful River Whyless' slowed down, harmonized cover is.
The standout tracks of the album proper, however, are "Falling Son" and "All Day All Night." The former builds an evocative sense of character using only snippets of descriptions. Take the second verse, "In a venue in Ohio, I was asked about my plans by one of my best friends. She said, "How long? How long will it take? How long until it breaks you apart? 'Cause it surely will."
"All Day All Night" starts with a chant of the song's title being establishing a powerful rhythm and leads into the record's most intriguing and accusatory lyrics, "So you thought you caught me licking my wounds…Yeah well, so what if I was?" The song steadily rolls along from there with a catchy fiddle line leading the way.
It can seem easy to dismiss indie folk bands as a dime a dozen, but on We All The Light River Whyless provide living proof that such a claim is specious.
River Whyless' We All The Light comes out this Friday (8/26) on Roll Call Records and is available for preorder on Amazon, Bandcamp, and iTunes.