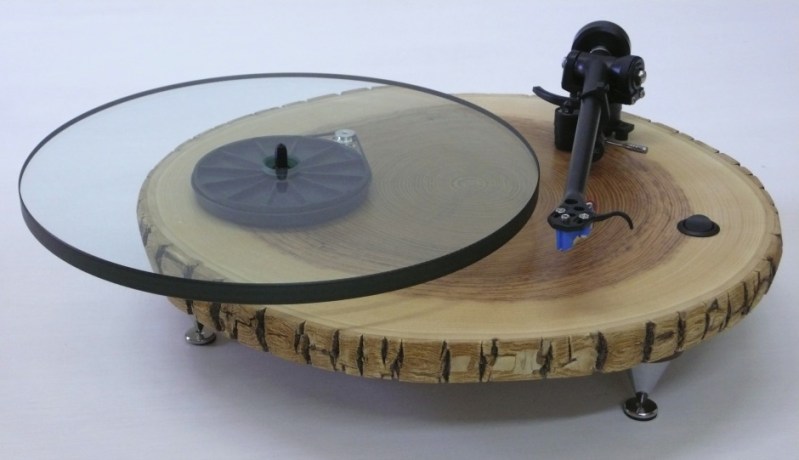 Two experiences caused Joel Scilley to conceive of the Audiowood Barky Turntable. Scilley, who was a carpenter at the time living in the San Francisco Bay Area, had purchased a vintage turntable that played his vinyl well, but that wasn't so aesthetically pleasing. Following that purchase Scilley found himself in a local lumberyard when he discovered some pieces of reclaimed redwood burl. That was when he had his Eureka! moment. Scilley thought, why not combine the beauty of redwood with the functionality of a turntable?
"I built a burl wood turntable for my own use, and when friends would come by they really loved it," Scilley told The Manual. "So I thought it might be worth pursuing professionally."
Scilley's company Audiowood was born and he began to make the transition from carpentry to designing audio gear. The Barky came to life after Scilley found a producer of stable, crack-free wood rounds that still had the tree bark on. "I immediately thought that they would work as a turntable," explained Scilley. "The hard part about Barky, at least at first, was sourcing a quality parts kit with the glass platter that is almost essential."
Procuring the parts wasn't just difficult, it was costly. The materials alone cost over half the price of a Barky, according to Scilley. What makes the Barky so special is that no two are alike. Each one has its own shape and pattern.
People took notice, and soon Anthropologie was knocking on Scilley's door. Now the Barky turntable is sold at the retailer.
So if you're in the market for a turntable, may we suggest the Audiowood Barky? It's unique, looks good and it can play your entire vinyl collection. Plus, nobody will have one that's exactly like yours.
The Audiowood Barky Turntable, $1,500 at audiowood.com.
Editors' Recommendations