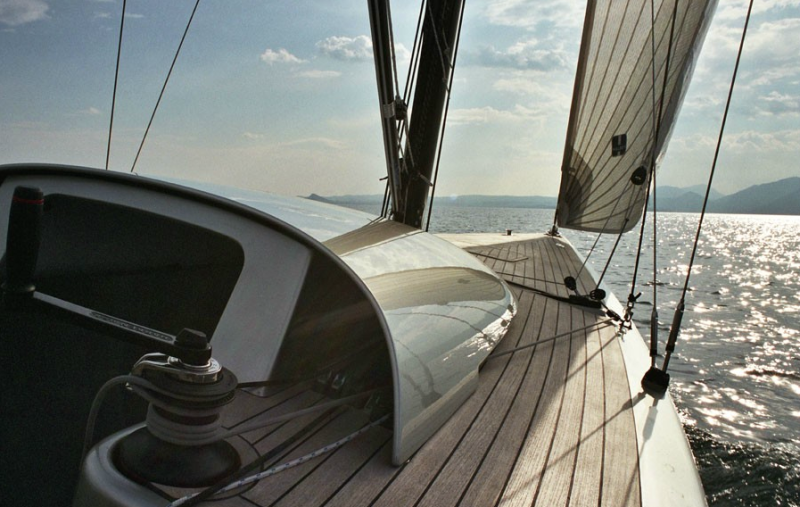 Big boats be damned – if you're looking for a jaw-dropping sailboat you can tuck away in your garage during the off-season, look no further than the B30 by B-Yachts.
This boat is all about minimalism, in every sense of the word. For starters, it's been shrunk down to just over 30 feet – a size that's relatively difficult to pull off with a sailboat. The B30 is a dwarf in comparison to most other sailboats on the water, but thanks to clever design and thoughtful engineering, creators Luca Brenta and Lorenzo Argento were able to slim it down without losing the stability and control enjoyed by larger vessels.
The key to this big-boat feel isn't just one feature, but rather a series of smart design choices working together to provide a simple, harmonious sailing experience. Thanks to a small wetted surface with respect to sail area, a massive ballast ratio (over 60 percent of the boat's weight is in the keel) and a sleek hull designed to minimize drag, the B30 boasts a level of stability that's unprecedented for a boat of its size.
And that's not even the best part. The B30 is also designed in a way that enables it to be controlled with just one hand. A self-tacking jib and simplified rudder controls make the boat incredibly easy to pilot, allowing you to focus less on handling the sail and more on enjoying the ride with your companions. Comfort both for you and your guests is practically guaranteed thanks to a generous cockpit arrangement, carved out of a deck in teak wood, with comfortable and attractive seats to allow you to kick back, relax, and have fun.
You can get your hands on one right now for around $125,000. Check out B-Yachts.com for details.
Editors' Recommendations