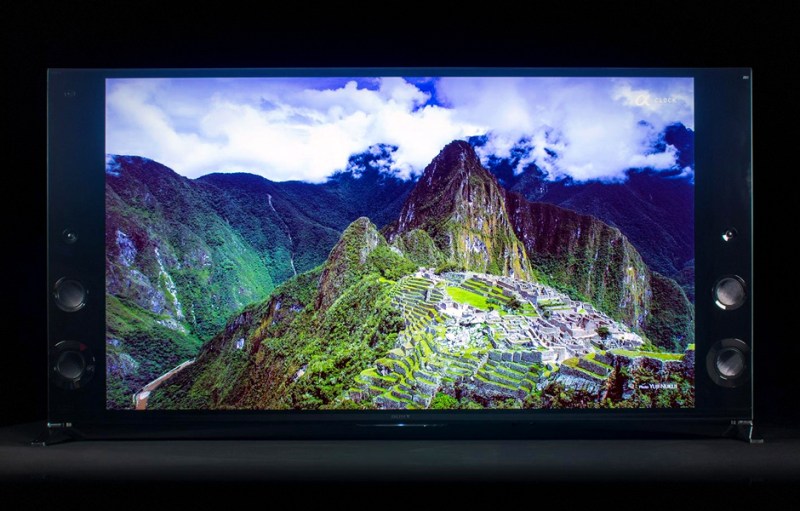 After several years of enduring complaints about how bad flat-screen televisions sounded, Sony finally decided to do something about it. The result is what you see here, the X900B series 4K television with its integrated audio system, which flanks the TV's jet-black screen with an array of speakers. And while it seems the public is on the fence about whether the speakers are an aesthetically pleasing addition, everyone seems to agree: The X900B sounds amazing, and it's got a stellar picture to match.
The X900B sits just below Sony's top-of-the-line television for this year, the X950B. As such, it doesn't feature the full array of LED backlights that are found in the the flagship model, but you'd be hard pressed to figure that out just by looking at it. The X900B has excellent black levels and contrast for an LED television, and its colors virtually pop off of the screen. The TV's resolution is excellent when playing back Ultra High Definition content, but, more importantly, it's processing chops make 1080p HD look stellar too.
The television's design is both attractive and curious. With a nearly all-glass face and super-thin metallic bezel, the TV looks like a blacked out window into another world, but then there's those speakers, which add a lot of width to the TV, and an interesting triangular profile, since the cabinet widens toward the bottom to allow more space for bass reproduction.
While not everyone is an instant fan of the how the speakers look, one listen to the TV in action proves that Sony achieved its objective of creating a television that is as fun to listen to as it is to watch. The TV is capable of some very impressive bass, reproduces dialog with crystal clarity, and delights its viewers with sweeping stereo effects. Overall, the sound is as big as the picture. And with sizes ranging up to 79-inches, that picture can be very big indeed.
If the X900B's stark speakers and elevated price tag don't suit you, check out the X850B, a step down model without the big speakers and a considerably lower price tag, but with comparable picture performance.
Check out Digital Trends' review of the X900B here.
Editors' Recommendations