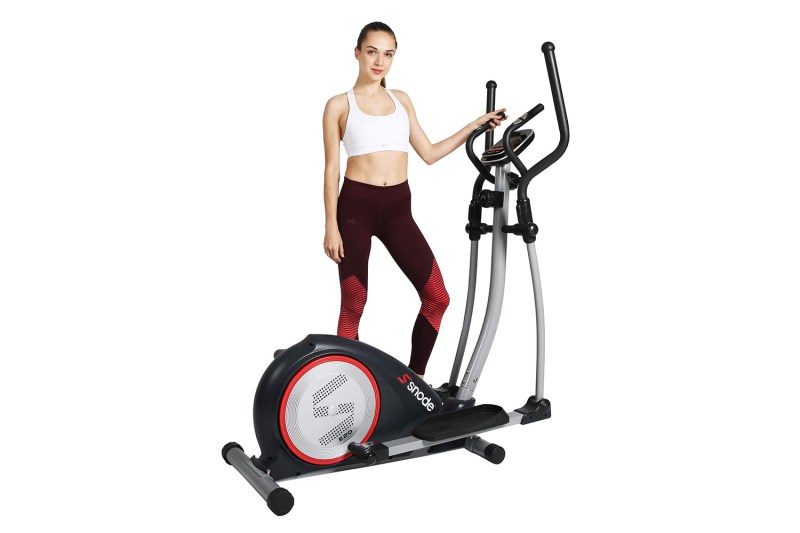 Cyber Monday is just hours away and there are a dizzying amount of deals piling up. For the health-conscious looking for fitness equipment to use at home, an elliptical machine like this one is both a bargain and capable of keeping you in top shape.
The SNODE Magnetic Elliptical Trainer is about as appealing as they come and right now it's priced at $388 (originally $485). With eight levels of resistance, a magnetic makeup that allows for a seamless and quiet workout, and a slick digital monitor, this machine checks all of the boxes. And when you're done burning calories, you can easily move the machine elsewhere thanks to its clever transport wheels.
So much more than just a stationary bike, an elliptical engages the whole body in a physical routine that's equal parts strength and cardio. You get the perks of a long jog, core workout, and lifting session—all in one. Better, you get all of that away from crowded gyms or musky workout studios. You get to train from home, with your favorite music blaring in the background or your favorite show streaming nearby.
Whether you're just after 20 minutes of motion or a multi-level training program, this SNODE can more than accommodate. The built-in computer can track time, distance, pulse, speed, calories burned, and more. The handlebars are comfortable, the pedals are secure and slip-free, and the magnetic flywheel is effective and easy to adjust, depending on how much resistance you're after.
Being a new model, this elliptical benefits from years of seeing what worked and didn't work within the vast home cardio genre. It takes advantage of the many positive innovations over the years, from magnetic tension and an overall compact design to an LCD display and a well-engineered cross crank for maximum stability.
With eight distinct tension levels, you can knock out your whole workout, from a light warm-up to a rigorous stretch perfect for elevating endurance levels and toning muscle. With all of the data at hand on the digital screen, you can track your progress and set new physical goals. Presently, Amazon is running an extra Cyber Monday deal on the elliptical. If you sign up for the Prime business card and are approved, you can take an additional $125 off.
For the price and functionality, this machine is tough to top. The SNODE also touts a one-year warranty and an always-available service team should questions or concerns arise. There's really no point in waiting if you're looking to bring the many advantages of an elliptical machine to your abode. After all, soon the snow and accompanying frigid weather will be here, making it all the less inspiring to leave the house. Stay in shape at home with a proper elliptical.
More Cyber Monday Elliptical Deals
End the year on a high note by treating your body to some excellent fitness gear and your bank account to some incredible pricing. This Cyber Monday, as you shop for like-minded items like pull-up bars and dumbbells, think about a solid elliptical option like this one from Snode as well. And while it's currently the best deal in the category, there are other great options on various styles of elliptical machines too.
Editors' Recommendations