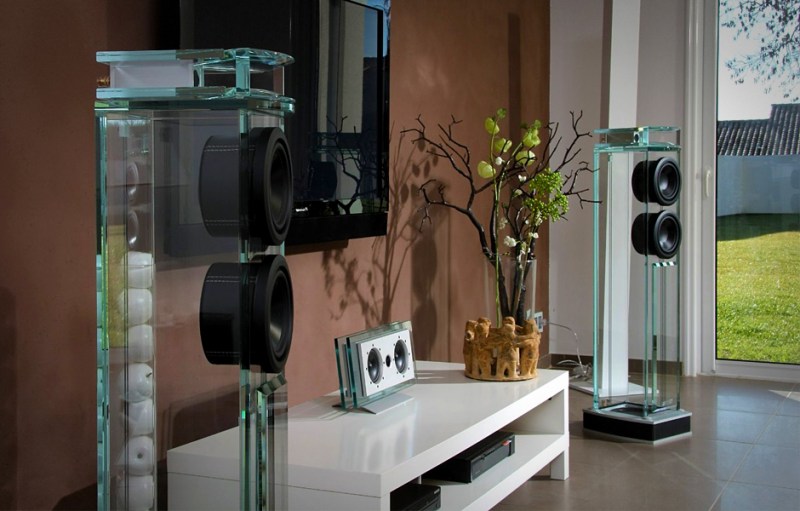 Affordability in the audio world is all well and good, but there's also something to be said for pure, unadulterated opulence. And if any speaker fits into that category, it's the tour de force of glass and and glory that is the Niagara loudspeaker from Waterfall Audio, priced at an absolutely budget-busting $40,000 per pair.
Related: Meet the McIntosh McAire, the Rolls Royce of lifestyle audio systems
Towering above the floor like sonic skyscrapers, the Niagara are designed to be functioning works of art, offering a gorgeous aesthetic that is sure to be the most striking component of any room — shy of an original Van Gogh, maybe. The thick cuts of glass and sleek components are impressive both for their inherent beauty and stark minimalism.
But it's the science making that minimalism possible that might just be the Niagara's most extraordinary achievement. Free from the resonance-diffusing filler and internal bracing that makes the interior of nearly every traditional speaker an utter mess, the Niagara have crafted a brilliantly elegant system that begs for inquiry inside and out.
To block unwanted resonances inside the enclosure, Waterfall has employed leather-bound acoustic dampening tubes around the backside of each of the drivers, the cabinets are constructed from high-rigidity glass to block unwanted frequencies, and the silk dome tweeter at the top is housed in a block of aircraft-grade aluminum. The Niagara's signal wires are strung in symmetrical lines to mold perfectly with the overall design, and the aluminum base serves as a harbor not only for the Niagara's passive radiator, but also for the entire crossover setup, tucked out of sight within its metal frame.
Most importantly, the Niagara offer exceptional audio performance to match their lavish aesthetic. There's no doubt that $40K is beyond the reach of most listeners not of royal lineage. But if money is no object, Waterfall's new Niagara are true form and function incarnate, and just about the most beautiful speakers we've come across.
Editors' Recommendations