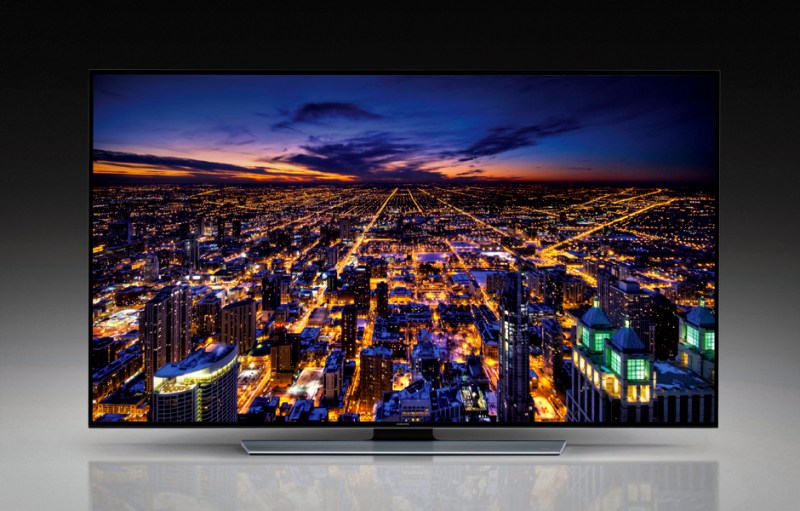 This year's hottest TVs are hitting store shelves now, and if you're looking at getting in on the bleeding edge of the latest TV technology, you owe it to yourself to check out Samsung's HU9000 curved Ultra HD TV.
Why the curve? Samsung says the gentle concave curvature makes for a more immersive viewing experience and provides a more uniform picture from edge to edge. And while we remain a little skeptical of those claims, we will say the curve is an elegant aesthetic design element that has a way of drawing attention from all who see it. If you crave a TV with some "wow" factor, the HU9000 will more than do the trick.
The HU9000's form factor is but an appetizer though, because when you turn it on, this top-tier TV puts out a picture that is an absolute feast for the eyes. Based on our initial impressions, it is one of the best-looking LED/LCD televisions we've seen yet, with overall picture quality that approaches that of a high-end plasma. Color accuracy appears excellent, black levels are outstanding and contrast is eye-popping.
The set features the latest version of HDMI (2.0), with support for Ultra HD resolution (four times that of standard HD) at up to 60 frames per second. And, if you purchase a set now, Samsung will throw in its Ultra HD movie pack on a 1 TB hard drive for free (a $300 value). The movie pack comes with Ultra HD versions of  Night at the Museum, X-Men Origins: Wolverine, The Counselor, GI Joe: Retaliation, and World War Z, plus three documentary films: The Last Reef, Grand Canyon Adventure, and Cappadocia.
You don't need Ultra HD content for this TV to look amazing, though. The HU9000 packs Samsung's best video upconversion hardware, which makes nearly any source look stunning.
All of the hardware and connections are located in what Samsung calls the 'One Connect' box, which connects to the television via a single, proprietary cable. This way, the TV can be upgraded with the latest hardware, software, apps and features down the road, which removes the risk of it becoming outdated in the near future.
The HU9000 can be found on retail store shelves now, including Magnolia inside Best Buy and in Samsung Experience stores inside select Best Buy locations. The 65-inch model will run you $3500, the 65-inch $4500, and the big daddy 78-inch model a whopping $8000.
Want to see the TV up close and in action? You can check out this video at Digital Trends.
Editors' Recommendations