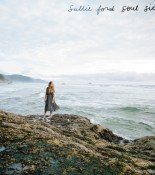 Sallie Ford describes her fourth record, Soul Sick, as a "confessional" album. After the breakup of Sallie Ford & The Sound Outside, Ford realized what she needed to change in her life and dove in. She recruited a new, all-female backing band and recorded and released her first album under her own name in 2014. Titled Slap Back, the album was a gritty, distortion-heavy departure from the rockabilly sounds of her previous work. Making the changes she needed only opened up more questions for Ford.
As Ford explains, "This is an album about insecurity, anxiety and depression, especially after the Sound Outside and I split up and had my first summer in four years where I wasn't touring… I explored what my music means to me, and how I've always struggled with feeling the pressure of not being good enough and wanting to quit. On these new songs, it felt good to write on one theme and from one place. All in all, Soul Sick has taught me a lot about myself and helped me to heal."
A lot of that healing is captured in the music. It is laced with a lot of nostalgia and inspired by the music of the 1960s. Soul Sick returns to the some of the same influences heard on Ford's albums with The Sound Outside. It's clear Ford has evolved since that time, her voice has strengthened, and the lyrics on Soul Sick reveal a level of vulnerability that none of her previous albums reached.
Sallie Ford's Soul Sick is out now through Vanguard Records and is available on Amazon and iTunes.
Editors' Recommendations