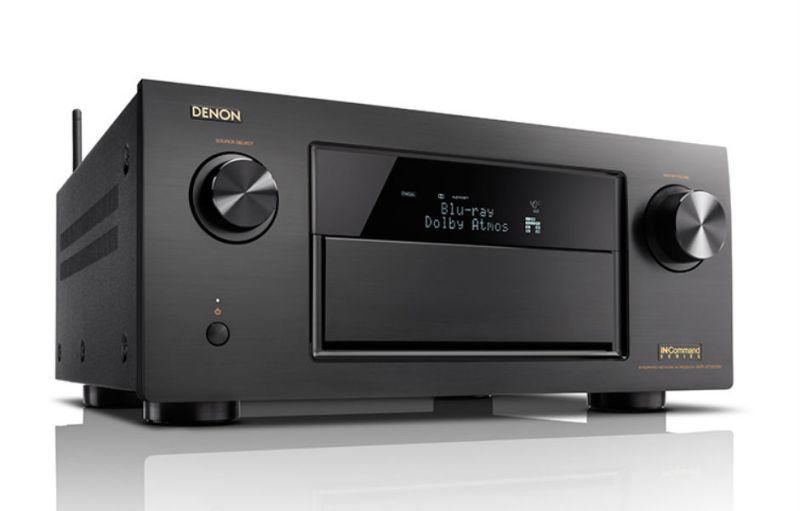 For some people, a basic home theater setup just won't cut it. If you're looking for utter home theater domination, you may want to check out the new flagship receiver from the folks at Denon, a $3,000 piece of home theater awesomeness known as the AVR-X7200W. Offering hi-res audio streaming, 9 channels of potent sound, and compatibility with the magical new Dolby Atmos surround sound technology as a warm-up, the X7200W dares you to find a more capable commander for your home theater system.
Related: Martin Logan's new electrostat will blow your mind and your bank account
The X7200W is certainly no small investment, but for its hefty price tag, demanding users will get a veritable cornucopia of options. The system is capable of delivering 150 watts of sound through its proprietary high current transisters, which can be spread out to a traditional 9.1 or 9.2 channel surround setup. But what's the fun in that? In order to bring home the kind of sonic immersion you get from a trip to the theater at home, the X7200W goes deeper.
Perhaps the biggest draw of the unit is its compatibility with the new Dolby Atmos technology, which is a new surround configuration that allows for specially designed Atmos speakers to be installed in the ceiling, or to fire sound at the ceiling from the top of proprietary speakers to create a visceral, incredibly seamless surround sound effect. The unit's multiple Atmos configurations include 5.1.2 (with the ".2" indicating dual Atmos channels) 5.1.4, or 7.1.2. Add in a dual channel amplifer, and the receiver pushes 7.1.4, or 9.1.2 Atmos configurations.
In addition to Dolby Atmos, the X7200W includes Auro-3D technology, which uses extra speakers similar to the new Atmos setup for a 9.1 channel configuration that employs the so called "Voice of God" effect, or up to 10.1 channels, again with the deployment of an extra amplifier.  Got speakers? The unit also offers 13.2 channel pre-outs to drive an even larger surround sound setup, though that also requires an additional amplifier.
Bluetooth streaming, and dual-antenna Wi-Fi with both Airplay and DLNA support allow for a multitude of wireless streaming options, including multiple high resolution file formats, as well as native support for Spotify Connect, and other Internet radio stations. Other features include all the top specs for 4K passthrough at the highest resolution to feed your new 4K UHD TV, as well as HD and SD upscaling, D0lby TrueHD and DTS-HD Master audio decoding, and much more.
Denon's new answer to your home theater's every need is slated for release in January 2015.
Content in this article originally appeared on our Brother site, Digital Trends.
Editors' Recommendations