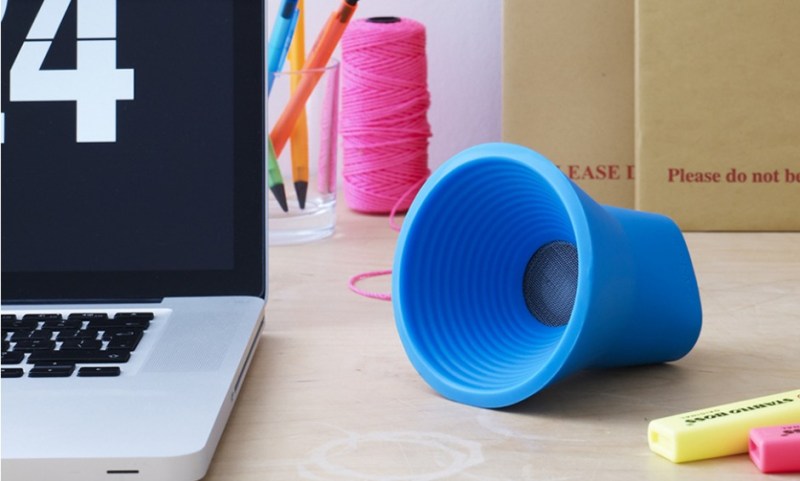 Audiophiles, here's something for you to get excited about: the KAKKOii WOW portable, wireless Bluetooth speaker. This little gem of a device, which was created by London designer Antonio Arevalo, brings both functionality and style to any place you want to hear your music. Want to listen to Mozart while cooking dinner, Jay-Z when working out, or something to rock out to while taking a shower? Now you can do so with ease, thanks to the fact that you can listen to your favorite playlists in any room in your house. Better yet, you can even bring the WOW speaker with you to the beach or the ballpark.
The WOW — an acronym for With-Out-Wires — speaker is made of durable silicone and comes in six poppy shades — pink, red, blue, yellow, white and black — so you can pick the one that suits your decor and personality.  Its conical shape allows you to change its position for three different types of sound. Prop it face up for 360 degrees of sound, on its side for directed sound and face down to muffle it.
The  KAKKOii WOW speaker has a Bluetooth connection with up to a 33-foot wireless range. In addition it has a built-in rechargeable battery that lasts for up to four to six hours. Best of all, it automatically goes silent when you receive a phone call, so you don't have to worry about fumbling with the speaker. When you're done with the call it auto plays.
Finally, a portable speaker device that looks just as good as it sounds.

The KAKKOii WOW Bluetooth Portable Speaker, $80 at amazon.com.
Editors' Recommendations