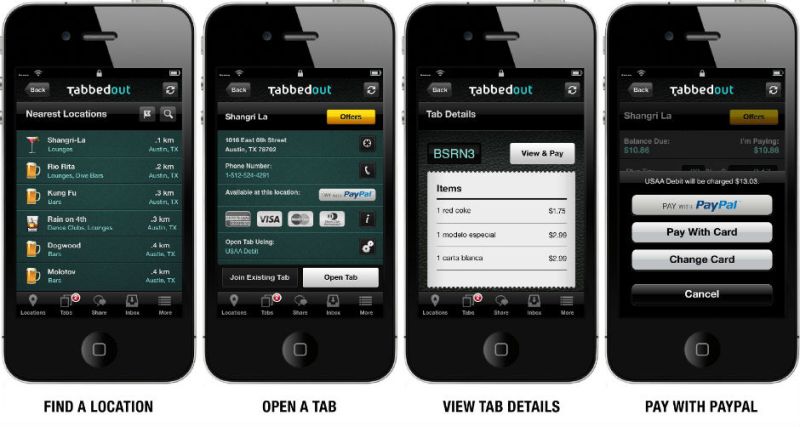 We've all been there — you're at a restaurant with a group of friends, and for some reason the waitstaff is taking forever to find. When you find your server, you ask for the check, and that takes another 10 to 15 minutes. Once you finally get the bill, then you have to split it so many different ways, and then there's all those credit cards that the waiter has to run through the computer. But now there's an app that takes care of all of that for you. It's called TabbedOut. Simply download the app, then see how much time it will save you.
"TabbedOut is a free app that lets you open, view and pay your bar and restaurant tabs with your phone," according to the TabbedOut website. "It eliminates the need to flag down a waitstaff, wait in a line at the end of the night or go back to a venue to find a card you left behind. You can also use TabbedOut to split a check among your friends, letting the app do all the math for you and eliminating the hassle for your waitstaff dealing with a mountain of credit cards."
We were curious about how such an app could exist, but after seeing a simple explanation, it doesn't seem so complicated. "TabbedOut integrates with most hospitality point-of-sale systems and is seamless for the venue and the waitstaff serving you," says the website. "The process is simple. Tell your server that you would like to pay using TabbedOut and order as you normally would. After you open your tab, the server will see a button matching your name on their point of sale system. They will then connect your tab directly to your phone, so you can see your order as it is entered into the system. When you are ready to leave, you simply consult your open tab to review your bill, set your preferred tip amount, hit "pay tab" and leave. It is that easy!"
Just think about how much time you're going to save once you start using TabbedOut.

For more information, visit TabbedOut.com.