It used to be that going green in your home meant you had to skimp on style. Rooftop solar panels were bulky eyesores. Gray-water collection tanks took up a good chunk of space and looked cheap. And the high cost of these features meant that once installed, you had to wait years to finally start getting a return on your investment. Luckily all of that has changed and today's ultra energy efficient homes, or Passive Houses, are not just saving the planet and reducing energy costs, they're stylish as hell.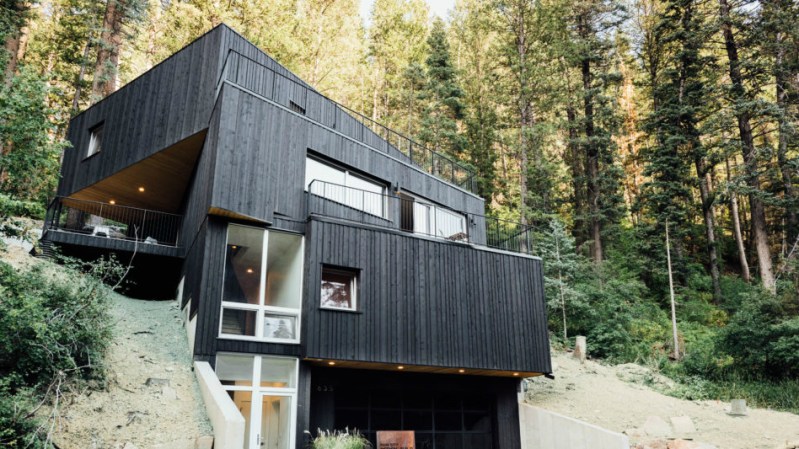 Not many architecture firms out there are working to achieve the Passive House status. It's a rigorous, international standard for creating ultra-low energy buildings and reducing the building's ecological footprint. But architect Chris Price and designer Andrew Foster have taken up the challenge, and their firm Park City Design + Build has been turning out a line of Passive House dwellings that have us wanting to move right in. Luckily, one of their creations is currently up for sale.
Located in Summit Park, not far from Park City, Utah, TreeHaus is a stunning example of innovative techniques meeting high style. Tucked into the side of a steep hill, every design decision was determined by the site constraints, energy efficiency goal, and micro-climate of the location. It's a statement of what can be achieved when following the design motto "form follows function."
Outside, TreeHaus is a striking set of three black stacked cubes. Clad in dark cedar, each cube is a different floor of the home. Each level is slightly rotated to create jutting forms that become protective overhangs or open decks. This exterior envelope is highly thermal efficient, providing a steady interior climate and protection from the area's extreme snowy weather.
Inside, TreeHaus is an airy, open space meticulously designed in a contemporary, laid back look that is perfect for a high style mountain home. High ceilings supported by exposed steel beams, bright white walls, and light oak floors keep the space bright even in the low light of winter, ensuring lamps don't need to be turned on in the middle of the day.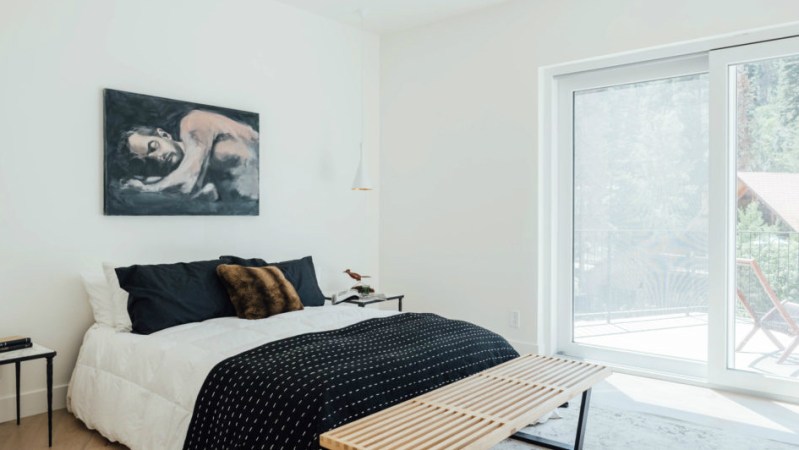 The layout of the home is something unexpected. The public level is sandwiched in between the private levels rather than on the first floor. This allows the first floor roof to become an open-air deck for the second floor family room, while the third floor overhang becomes the roof to a covered patio. Beyond the open plan family room which includes a sitting area, dining area, and large Scandinavian style kitchen, the home also includes a two car garage, four bedrooms, and four bathrooms.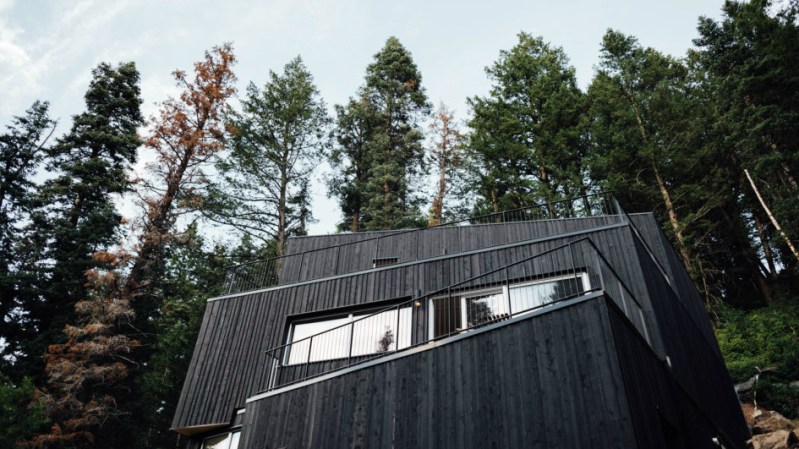 The Passive House status of TreeHaus means the home is up to three times more energy efficient than the average house. This makes the current price tag of $1.1 million a little easier to handle.
For other black-clad homes, check out this Japanese-inspired home in the Czech Republic.
Editors' Recommendations