Stand-up paddling (SUP) has gone from a trendy outdoor fad to mainstream fitness and backcountry sport. With everything from long distance racing, SUP yoga, and even SUP whitewater, with the right board you can go anywhere on the water. Of course, not everyone has the space to store or travel with a rigid ten foot board. That's where Boardworks Surf new SHUBU Sport ($899) comes in.
Related: The Manual's SUP Guide | Find Adventure at the GoPro Mountain Games
The SHUBU Sport (it stands for Show Up and Blow Up) is a near perfect all-purpose utility board for those looking to get into SUP. At ten feet six inches long, and thirty-two inches wide, it is stable in all conditions and under a heavier load. We've been using our demo board to get into some of the local alpine lakes around Salt Lake City for some SUP yoga sessions (almost always accompanied by a fall in the water) and mellow white water excursions.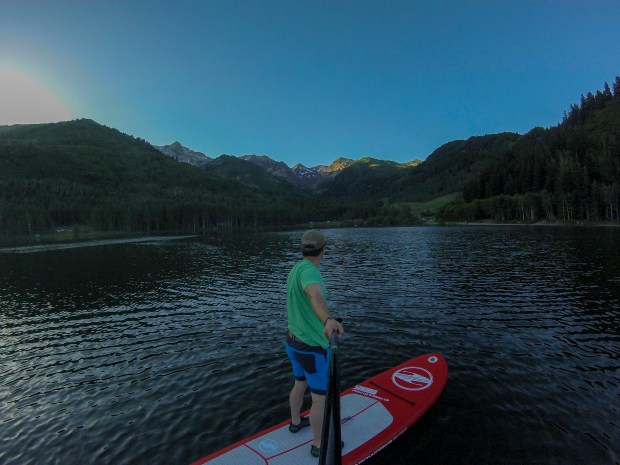 The diamond groove, EVA foam, deck pad is incredibly grippy, which is especially helpful in rough water or when fighting a lunker of a lake trout. We've had no problems with balance when loading it up with a daytrip's worth of gear either. At the front is a bungee system that will lock down light items – we usually bring along a small drybag for essentials and clip on a leash to the dog's life jacket so we can keep track of them. Our only real gripe is that the back of the board doesn't a bungee or d-ring system to lash something a little bigger down. However, this forces us to pack smarter and not overload the board when out on the lake, so we can't really complain.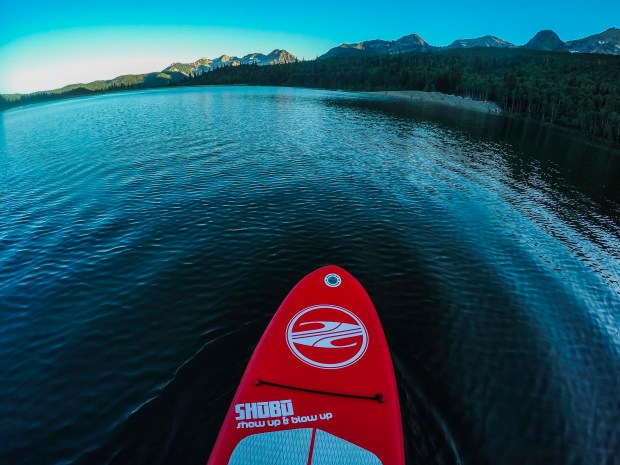 Packing up the SHUBU is a breeze. The high pressure valve deflates in seconds, letting you fold up the board from tail to tip. Boardworks' carry pack holds your board, pump, and patch kit with ease. The entire package easily fits in the trunk of your car. For approach hikes, the entire package weighs in just over thirty pounds, so you won't be dead tired after a short hike with it on your back.
Whether you're a novice paddler looking for your first board, or a veteran SUP athlete in search of an easy to use all-purpose paddler, the SHUBU Sport hits all the right notes. You won't find much competition at its pricepoint for inflatable boards, an even then, none of them compete with its light weight, easy handling, and portability.