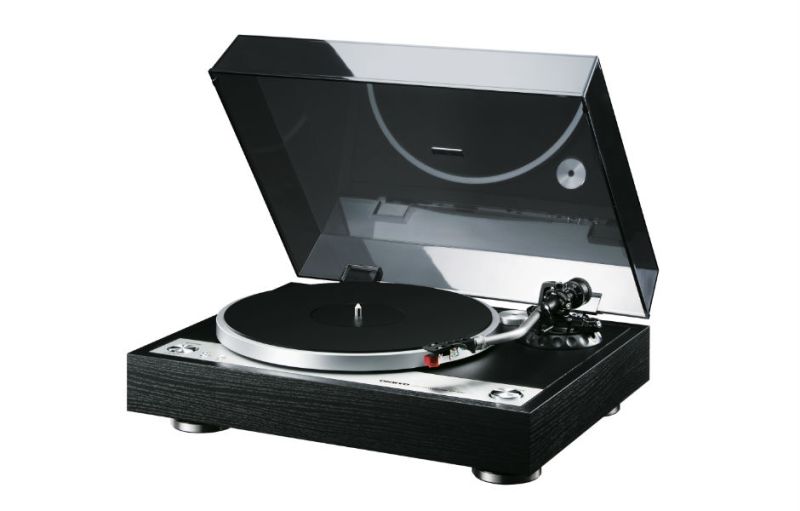 While much of the music industry is flailing, vinyl is back in a big way. And that's just fine by us, because along with a tidal wave of new wax to spin, some of the top electronics companies in the business are going back to the well and crafting brand new turntables that are better than ever before. One of the latest new creations comes in the form of Onkyo's gorgeous CP-1050.
A beautiful direct drive turntable that runs without a belt for a quieter spin, the CP-1050 is loaded with sparkling aluminum components, coraled by a sleek MDF cabinet enclosure. The aluminum tonearm is loaded with a quality Moving Magnet cartridge, designed to trace every groove with brilliant precision and very little force to keep your new records sounding that way, and the arm will also support multiple aftermarket cartridges should you need to trade yours out down the road.
Related: Old school meets new with Project's Element turntable
The player spins both 33s and 45s, and also comes with an adaptor for 7-inch discs, and a plastic dust cover. Other features include a whisper-quiet Brushless DC motor, a quartz-lock control system for high precision spins, and height adjustable feet on the bottom designed to quell vibration to keep your hi-fi experience clean and pure. Really, the only noise you should hear from this table is whatever your vintage records bring with them.
At $500, the CP-1050 isn't exactly cheap, but it runs in line with other mid-tier turntables currently popping up on the market. You'll also have to make sure your receiver is equipped with a quality phono input, or purchase yourself a decent outboard phono preamplifier as the gold RCA outputs send a straight turntable signal.
There's no USB on board for digitizing your collection, either — the CP-1050 is old school. But then again, what would you expect from a company that dropped its first turntable right after World War II?
Onkyo's new CP-1050 turntable is available now