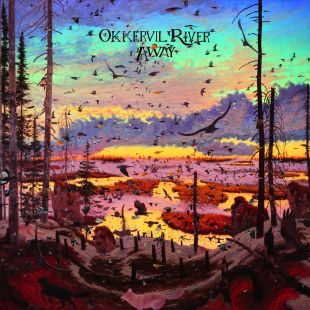 Okkervil River released its eighth full-length album on September 9th. Titled Away, the record comes three years after the band's seventh album, The Silver Gymnasium. Away departs from the 1980s influence so prominent on The Silver Gymnasium, moving into slower, more orchestral territory—a new step for the band.
In a statement about the album published in May 2016, bandleader Will Sheff offered some information on the background of Away. Sheff describes 2013 through 2015 as a strange time, with the loss of connections in the music industry and the death of his grandfather. A retreat to the Catskills provided an opportunity for him to clear his head, and to use Sheff's own words, "[n]ew songs were coming fast…I realized I was writing a death story for a part of my life that had, buried inside of it, a path I could follow that might let me go somewhere new."
Opening track "Okkervil River R.I.P." immediately signals the path Sheff found. The track is slow and heavy with emotion. The track is filled with dark scenes and images ("I see my grandfather, T. Holmes 'Bud' Moore, laid up in his hospital clothes. Or I think about Judee Sill, dying in some trailer park on cocaine and codeine, all alone."), and just as the song hits emotional rock bottom, there is a new light: "But I didn't open up my mouth just to piss and moan—No way!" Suddenly the air glitters, and the narrator wants to hear music again.
"The Industry," one of Away's early singles is one of the album's more immediately catchy tracks. Written after Sheff received some (unspecified) bad news, the song is a powerful lament about the state of the music industry with myriad accusations. The accusations are non-specific, save one directed at Sheff himself: "And look at us…as we're trying to bum-rush that VIP up there…but was that ever what we even wanted to be?" The final verse suggests all may not be lost, "Do you remember…when some record was enough to make you raise your fist…Well, I never thought I'd feel like that again."
Okkervil River's Away is out now through ATO Records and available on Amazon, ATO Records' online store, and iTunes.