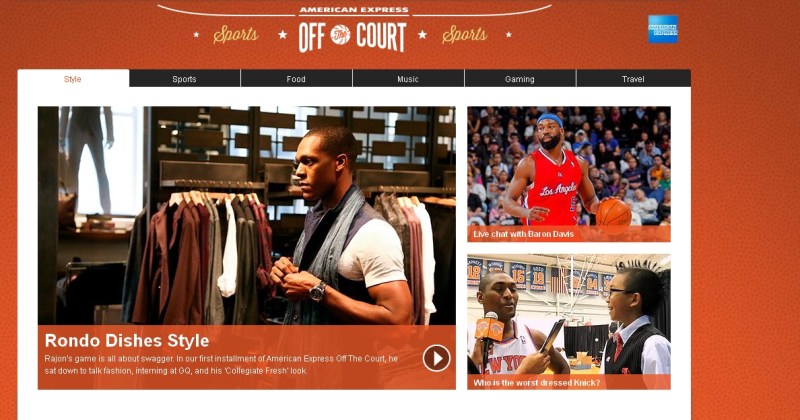 Out of all the American professional sports leagues, the NBA has long been on the front lines of promoting their players and their spectacular, balletic displays of athleticism and force. Never more has this been true than in the Age of Social Media, where the league has been quick to adopt the spreading and sharing of video content (Vince Carter dunk videos and Magic Johnson assist compilations anybody?) among the various social networks.
So it came as no surprise last month when the NBA, in a partnership with American Express, unveiled its Off the Court section on the league's website. Off the Court is an ongoing video series hosted by NBA Champion Rick Fox that delves into the interests that current and former NBA players have when they are exhibiting their talents during game time. The areas that will be covered in various Off the Court "webisodes" will be style, non-basketball sports, food, music, gaming and travel. Fans of the game will be able to watch live chats with their favorite NBA players where they can contribute questions via Twitter and Facebook. In addition, there will be pre-recorded vignettes that showcase players and their various interests.
So far, Off the Court has focused on their "Style" section. In November, the first player chat saw NBA Champion and All-Star Boston Celtics point guard Rajon Rondo discussing his "Collegiate Fresh" look, how his taste in clothes reflects his game, and his stint as an intern for GQ.  Also in November, retired All-Star point guard Baron Davis discussed his new show on the Esquire network as well as how he first got into style.
Over the next few months, Off the Court will be posting content in each of the other interest areas listed on the site. In January, Chris Bosh, the All-Star power forward/center of the defending champion Miami Heat, will display his love of cooking by walking viewers through the creation of one of his favorite dishes. In February, when the NBA descends on New Orleans for All Star Weekend, Off the Court will explain how NBA players appreciate music before and after games. April showcases travel, so Chicago Bulls All-Star center, Joakim Noah, will "open up about traveling off the beaten path."
The NBA is always on the cutting edge in making sure that their fans are able to experience the game on a multimedia level—and Off the Court is just another example of this fact. Whether or not you love basketball, Off the Court is the place to learn how professionals live with style and find ways to keep themselves well-rounded with a variety of interests.