Sprinter, Torres' new album comes out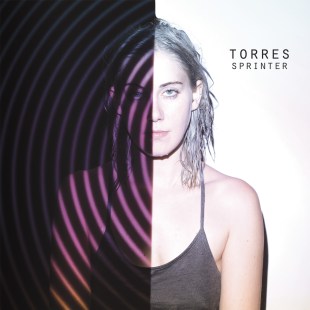 Tuesday (May 5) on Partisan Records. The album is Mackenzie Scott's second, following her 2013 debut record, also released under the name Torres.
The album makes for a challenging listen as it reaches noisier extremes than her 2013 debut, but Sprinter is well worth it. The album is an unflinching self-examination both spiritually and musically.
Though Torres has been compared to PJ Harvey before, Sprinter actually sees Robert Ellis and Ian Olliver reunite 23 years after the release of Harvey's debut, Dry. The two make for a strong rhythm section, supported by Portishead's Adrian Utley, whose guitar riffs and synthesizers linger in the background on Sprinter.
Scott describes the album as a "space cowboy" record and cites influences ranging from Funkadelic and Nirvana to Ray Bradbury and Joan Didion. Of those Nirvana is the clearest sonic influence on Sprinter; the album sounds like something of a middle ground between In Utero and the grunge band's MTV Unplugged session. Didion's influence is clear as well in Torres' lyrics. Anxious feelings run through the album, along with a sense of alienation. Scott grew up in Macon, Georgia, but recorded Sprinter in the United Kingdom (Bridport and Bristol, specifically). Before making the decision to record in the UK, Scott moved first to Nashville, where felt like an outsider, and then to New York, where she is currently based.
Scott's ambivalent relationship to her Baptist upbringing in the Deep South plays a major role on Sprinter. Scott says, "I wanted something that very clearly stemmed from my Southern conservative roots but that sounded futuristic and space-y at the same time." "Cowboy Guilt" is the Sprinter's clearest embodiment of that sentiment as the song contrasts George W. Bush parodies and wearing your Sunday best with a mechanical melody.
With its jumps from noisy extremes to softer, acoustic songs Sprinter may not make for the easiest first listen, but it rewards future listens with strong lyrics and melodies. Those same jumps that are jarring the first time are much more thematically appropriate after a second listen.
Sprinter is available on Amazon, iTunes, and through Partisan Records.