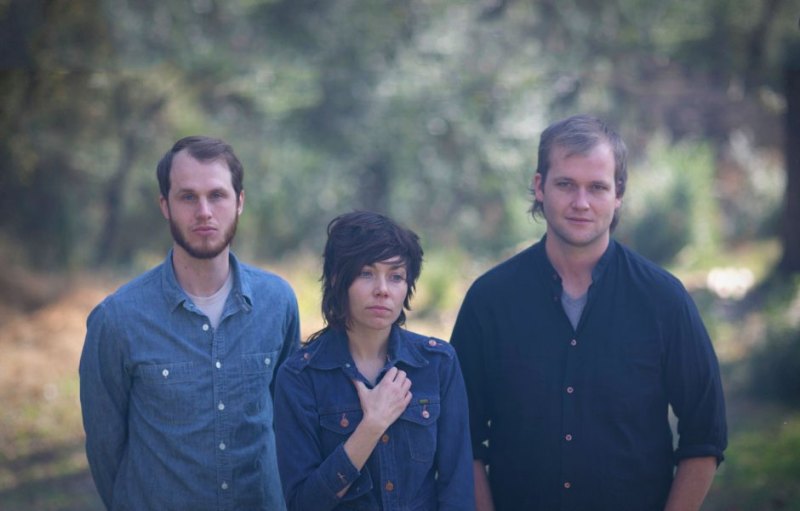 Durham, North Carolina's Mount Moriah play a brooding, beautiful combination of folk and southern rock. Last Friday (October 9th), the three-piece released a new 7″ on Merge in anticipation of the announcement of their third album's release. With only three tracks and clocking in at under 15 minutes, "Calvander" and "Baby Blue (Garage Demo)" b/w "Plane (Live)" makes for a quick, but intense listen.
A wise man once said, "Specificity is the soul of narrative," and Mount Moriah's music embodies that idea to a tee. Vocalist Heather McEntire's impressive voice and storytelling skills paint intimate portraits of life in the contemporary South. Though the immediate scope of the lyrics rarely leaves the interpersonal, it does not need to to show the struggle between new, progressive traditions and entrenched, conservative ones.
A-side track "Calvander" is named after a rural Carrboro suburb and gives impressionistic details from a bigger story as it namedrops Carteret County and the Newport River. The song has no need to spell out the story because that is not what Mount Moriah's music examines. Amid those references to the local geography, the narrator is looking for redemption. She "[holds] up her palm" and "offer[s] up her face…looking for any kind—some kind—of sign." These details flesh out the story and the music in ways a straightforward telling of what happened could not.
The lyric video for "Calvander"
In addition to "Calvander," the 7″ features a garage demo of the otherwise unreleased "Baby Blue" and a live rendition of "Plane," a single from the band's 2011 self-titled album. Contrary to what one might expect, it is not the live version of "Plane" that captures a different side of the band, but the demo of "Baby Blue." On guitar, Jenks Miller sounds wholly uninterested in mourning as he kicks in the distortion. The track's tempo never gets too quick, but the band makes "Baby Blue" rock without it. The group excels at this, with their albums and live shows featuring many tracks that are not just potent emotionally but aurally, too.
Mount Moriah covering Neil Young's "Revolution Blues" at WKNC's Double Barrel Benefit in 2011
With Heather McEntire's vocals, variously gentle and muscular guitar-playing from Jenks Miller, and a rhythm section centered around Casey Toll's bass, Mount Moriah create music like no other band playing today. For fans of the band, "Calavander…" is a waypoint between 2012's Miracle Temple and their as-yet-untitled next album; for others, the 7″ is an introduction to the themes Mount Moriah deal in and with.
Mount Moriah's "Calvander" and "Baby Blue (Garage Demo)" b/w "Plane (Live)" is available through Amazon, iTunes, and Merge's online store.
The music video for "Plane"