Jake Eshelman, the creator of Side Project Skateboards, wants to Make America Skate Again. If that phrasing sounds a tad familiar there's a reason– Eshelman launched the t-shirt campaign in direct response to the "…bigotry, misogyny, xenophobia, and pitchfork diplomacy…" he feels exists in the US today.
The good news for us who may agree with the concept but don't exactly have the balance and coordination to skateboard, just rocking the tee helps.
Eshelman came at making skateboards a little sideways: after getting a degree in Classical Literature, he followed his girl to Houston where he put his woodworking skills to use in his girlfriend's father, Hugh's, business. Hugh and Eshelman happen to share a love of skateboarding. Inspired after hearing Hugh's tales of the 1960s when kids would masterfully convert rollerskates into skateboards, Eshelman began making his own vintage-inspired longboards. Each one is crafted with a variety of woods, creating gorgeous patterns. They run about $300-$400, which is pretty insane given each one is unique and handmade.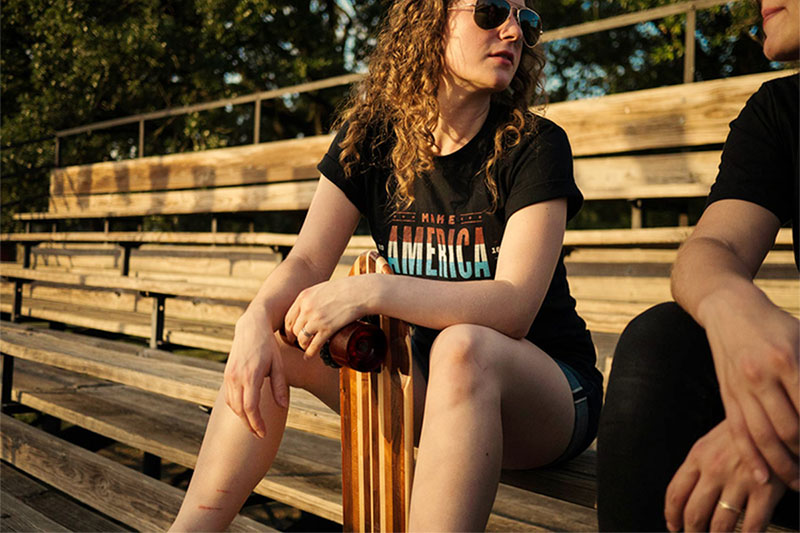 But he didn't stop at just reinventing classic skateboards. The Make America Skate Again campaign is offering a limited-run $25 t-shirt that's all-American, baby: designed, made and printed, in the good ol' US of A. Twenty percent of the proceeds go to the NGO, Skateistan, an ingenious nonprofit that seeks to improve the world via skateboarding. With schools in Afghanistan, Cambodia, and South Africa, Skateistan provides education and skateboarding lessons to empower youth, especially young girls.
Eshelman explains his decision to benefit Skateistan: "I admire their work and felt that this initiative is a good, thematic way to support them. The project not only celebrates skateboarding as a positive player that can benefit the socio-political and economic climate around the world, but it also seeks to show American voters that you can accomplish just as much (if not more) with love and support than you can with hatred and small-minded rhetoric."
The Make America Skate Again swag also includes an 11 x 17" poster, enamel lapel pins, and campaign stickers. You'd better hurry though– there are only a couple of tees left in medium and large and all other sizes have sold out. This is probably the first time in history that a t-shirt is selling out can offer some hope about a presidential election…