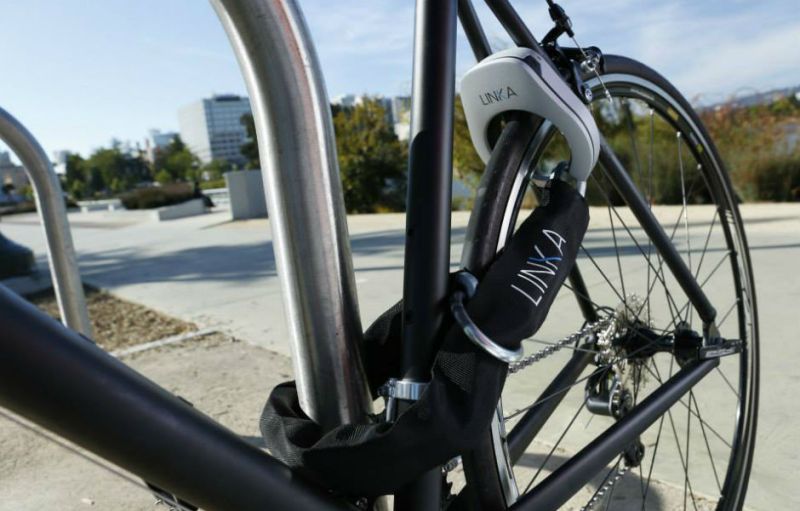 Those who bike know every cyclist's worst nightmare: arriving to your parking spot just to discover that your bike is no longer there! People who have been victims of bike theft play the scenario over and over in their heads; they think about what they could have done differently to avoid the crime. Enter in Mohamed Mohamed, the founder of Velasso, the Oakland-based company that conceived of Linka, an innovative new lock that may keep your bike from ever disappearing again. All you need to do is contribute to their Kickstarter.
"Growing up as a New Yorker, I was naturally very overprotective over anything of mine being stolen," said Mohamed. "Theft was really high and being on the receiving end of the theft — electronics, clothing, and more being stolen from me — I wanted to be sure it wouldn't happen to one of my expensive bikes! I wasn't going to wait for it to happen to me to start caring. There's no peace of mind in that."
Linka gives cyclists peace of mind, thanks to new technology. According to Mohamed, "You mount it on your bike and it's always with you. It locks the same way every time immobilizing your bike making it impossible to ride away. Eighty-five percent of bikes stolen are ridden away. One block away, that same thief is just an inconspicuous cyclist and no one will stop him. LINKA will siren when someone attempts to steal your bike attracting attention to the surroundings while simultaneously sending a tamper alert to your phone to let you know what's going on. It's much more difficult to be inconspicuous carrying a bike on your shoulder that you can't ride away while it's screaming."
You simply use your phone to lock and unlock the handy little device. Phone dead? No problem! Enter a four-digit code. You have three chances to do that; if you fail, you must wait until your phone is charged.
For more information, visit linkalock.com. To contribute to the Linka Kickstarter, please click HERE.
Editors' Recommendations