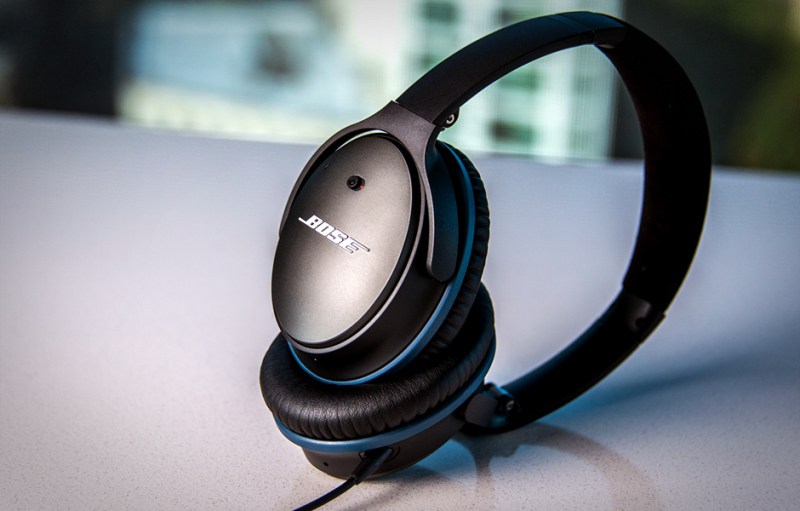 Bose's QC15 headphones are rockstars of the travelling scene. Pioneers of active noise cancelation for the regular business commuter, you'll be hard-pressed to board a flight anywhere in the modern world without seeing those silver cups flashing the aisle. So when Bose announced it was decommissioning its classic cans for the new QC25, it was no doubt a bit unsettling to fans of the icon. But fear not weary travellers, the QC25 have usurped their predecessor for a reason: they're just that good.
When Bose announced its new QC25, the company introduced them as being better in all facets. That includes an upgrade to the noise cancellation, which now puts a bigger emphasis on the lower frequencies. And Bose went further, employing a new configuration that sets the canceling microphones both inside and outside the earcup, as well as developing a faster, more accurate noise canceling chip, which can adjust for ambient sound in a "fraction of a second."
Related: Noisehush's i7 noise canceling headphones
The headphones have also been improved in comfort and design. The QC25 boast subtle aesthetic changes that make them look a bit more modern, flashing style more inline with the legions of competing headphones that have invaded the market since their predecessor's inception. The new design also comes with a more comfortable fit thanks to softer, more ergonomic pads cloaked in protein leather — no small concern for those who spend hours on end in the air.
There's no doubt the QC25's new design offers an even more impressive level of comfort and quiet — so much so as to create a feeling of near-absolute solitude on your commute. But the upgrade in sound quality is what pushes the Q C25into the driver's seat as the unquestioning replacement for the QC15. The sound is clearer, more dynamic, and more organic than any Bose headphone we've heard in the past, pulling them in the running for best in class when it comes to noise canceling headphones at their price point.
We do have one complaint to lodge, however, which is the QC25's reliance on disposable batteries. Though they last as long as 35 hours per charge, it would've been nice to see a rechargeable option from Bose this go-around. On the flipside, the design allows users to keep the QC25 going away from power sources for days on end, provided they've packed a few AAA batteries in their carry-on.
Bose has always been a leader in the noise-canceling game, and the QC15 will no doubt still be flying the friendly skies for years to come. But those looking for better performance in virtually all columns will want to consider making the $300 upgrade to Bose's new king of quiet.
Editors' Recommendations