Today we debut our new column dedicated to all things motorcycle related. You're welcome.
The black leather jacket is an icon of motorcycling, and despite much more colorful and safety-conscious options available in textile jackets, black remains a primary color option both for motorcycle paint jobs and outerwear. As it should be.
Problem is, once the sun goes down, all that black-on-black coolness makes you visually disappear out on the road, with only a lonely headlight and a tiny tail light to announce your presence to the multitudes of distracted car drivers out there. That's not exactly the safest way to go, which is why I was thrilled to come across Impulse Jackets out of Florida.
Impulse's literally bright idea is to add high-output LEDs to a top-quality jacket in order to increase rider visibility. But these LEDs aren't just there for show or for riders who've watched Tron a few too many times. Impulse has also created a wireless link from the motorcycle to the jacket that activates certain LEDs to indicate stopping and turning.
I was lucky enough to zip into the Syed jacket (all black, thankfully) for an extended loan, and it fits great, looks great, and features thick leather with effective armor in all the right spots. Truly top quality kit. The LED indicators consist of LED strips wired to a battery and receiver in the jacket (a little bulge near the front-left pocket). The red/orange LED "stop light" strips are stitched onto the waist and neck area under horizontal leather panels, with clear plastic covers. The yellow "turn signals" are vertical strips at the back of each shoulder.
When not activated or when your bike is shut off, the LED lights are off. When on, the turn-signal LEDs blink on cue. The added-on LED strips look like they were indeed "added on," but in a very professional done-by-a-leather-shop way, not like something my fumble fingers would have cobbled together in my garage late at night after a bright idea and some bottled social lubricant.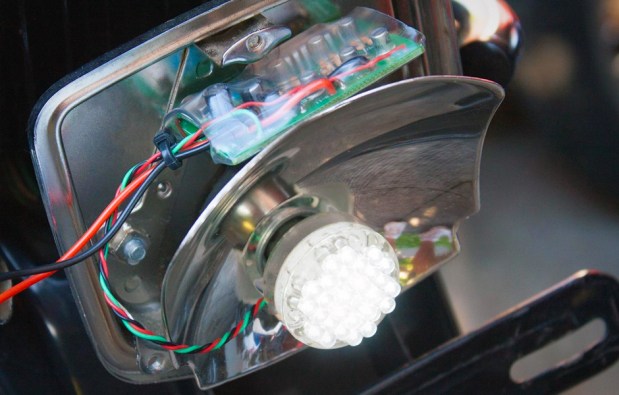 The wireless sender unit is on a tether connected to an LED tail light bulb, which replaces the stock unit on the rider's bike. Two more wires can be spliced into turn signal wires to add that functionality, but simply plugging in the replacement brake bulb and finding a secure spot for the transmitter gets you the brake light function without any added complexity. The low-power transmitter runs off power flowing to the brake light, so no additional routing of power is required. The operational range between the bike and jacket seems to be over 20 feet at least.
At present, the jackets don't have a power switch. A battery mated to the receiver module gives at least several days worth of standby power to the jacket, or about eight hours of total operational time at a stretch,  you just need to add "charge up jacket" to your post-ride routine. A small AC adapter with charge indicator is included, and if you can charge a phone, you can juice the jacket.
I initially hoped to hook the jacket up to my (black) Honda CBR1100XX Blackbird, but I discovered too late that it uses blade-style brake lights after Impulse sent me a module for use in the older push-and-turn brake lights (my bad, actually). Instead, I wired it into a friend's (mostly black) Ducati Monster 800 s2R. Altogether, the operation took about 15 minutes using a wirestripper and some simple push-type wire contacts for the turn signals, as supplied by Impulse.
Turn the key in the bike and the jacket worked perfectly – and it really gets attention, which is the whole point of course. Several people have asked me how I made the jacket (I directed them to Impulse) and how much it cost ($679). Even some bicyclists in the bike lane inquired about a cycling kit while stopped at a light.
As it sits, the Impulse LED jacket worked as advertised, especially in generating awareness from others, which is something every near-invisible, black-loving rider can appreciate. The LEDs are quite bright, and while not as visible (or critical) during the day, they certainly get the job done for those evening rides and late-night cruises home from the pool hall.
There are only a couple ways Impulse could could improve the design. Making the LEDs a bit more integrated into the jacket would improve the look, and if I can be greedy for a moment, adding a battery level meter near the cuff would let you know how much juice remains in the jacket battery. Speaking of which, a power switch for saving juice during daytime riding would make recharges less frequent. Otherwise, Impulse has pretty much hit this one out of the park.
Considering the outright cost of a top-quality jacket like the Syed, the LEDs seem like a minor added expense, especially considering their effectiveness at getting the attention of drivers who just can't seem to spot your black-clad body while motoring in the dead of night. The Impulse jacket is definitely on my motogear shopping list.
Editors' Recommendations