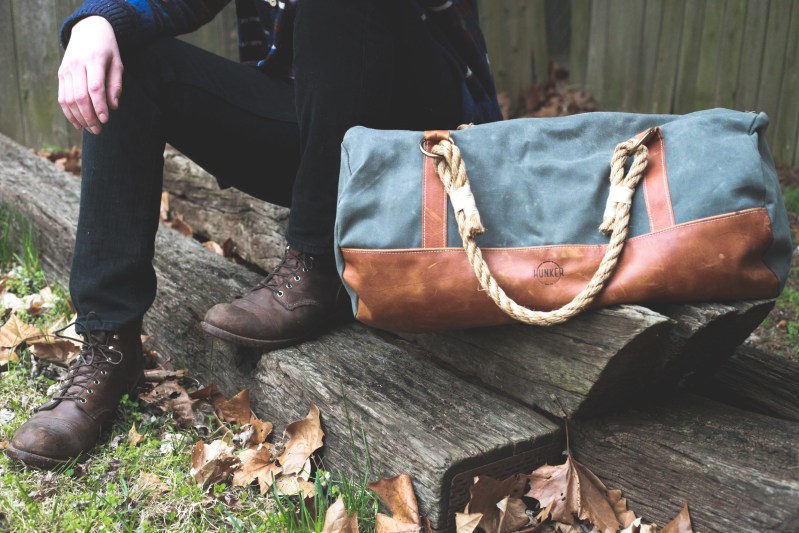 Denton Hunker knows how to crank out a great beat as the drummer of Green River Ordinance, but he also has a natural rhythm seated at a sewing machine. That's right—he's a rock star who knows how to multitask. He's created the Hunker Bag Co., which produces a line of rugged, hand crafted bags perfect for his life on the road, but useful for just about any lifestyle.
He grew up in Mesquite, Texas, where his grandmother taught him valuable skills on a 1950s sewing machine. He now lives in Nashville, but stays close to his roots and memories of his grandmother as he produces made-to-order leather bags featuring Martexin waxed canvas, all brass hardware and the Hunker logo.
"I believe that a good bag does two things," says Hunker. "It holds and protects your personal possessions and takes you on an adventure every day."
The website features a variety of different bags including Duffel No. 1 (from $300), The Mail Pouch ($200), The Wilkerson Brief ($225), The Highwayman Rolltop ($250), Utility Pouch (from $70) and Docking Traveler ($80).
Hunker is currently on tour with Green River Ordinance. They play a wide variety of cities from now until the middle of November. Check their website for specific dates.  And pack up your concert traveling gear in one of Hunker's bags.
Editors' Recommendations