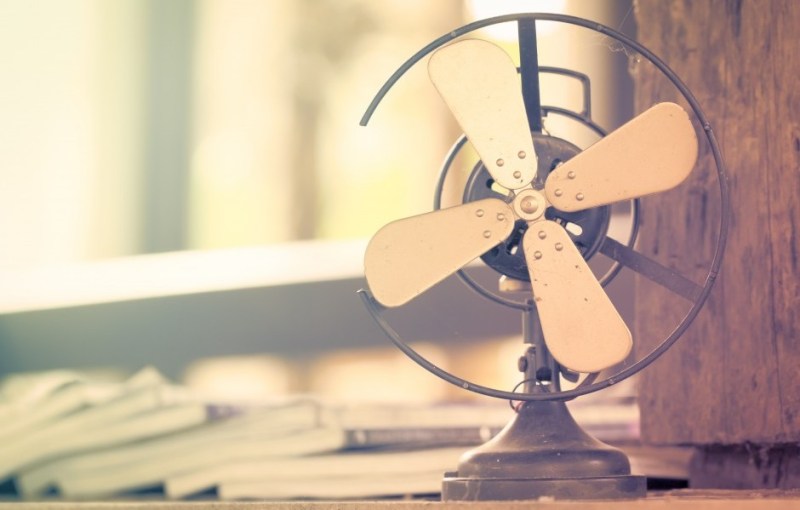 "Oh yeah, summertime is hot," you've likely thought to yourself at some point in the past couple weeks. Yes. Yes it is. Unfortunately, not all of us have reliable air conditioning to help make life bearable, and those who do would rather not spend hundreds on air conditioning. If you're currently suffering from a combination of heatstroke and low income, we suggest you check out these inexpensive and eco-friendly tips on how to stay cool. For help, we turned to Patrick Sughrue, General Manager of Artisan Tiny House.
1. Keep the Sun Out
The sun is, of course, the ultimate source of heat in your home — and the planet, for that matter. So one easy way to reduce heat is to block the sun as best you can. "My wife is especially good at that," says Patrick. "Right now the house is completely closed up, all the doors and windows are shut, and the drapes are all pulled. Sometimes when it gets real hot, we'll even take a bedsheet and throw it over the glass door, just to make sure there's no sun coming into the house at all."
2. Use the Cool Night Air to Your Advantage
If you live in a place where the temperature drops significantly at night, you should make the most of it. "Open up the house; open all your doors and windows with screens, and turn on your fans and bring all that cool air in overnight," says Patrick. "You have thousands and thousands of pounds of materials in your home, so if you cool them down to the 50 or 60-degree mark during the nighttime, and then shut your house back up in the morning, that'll help you a whole lot to stay cool." It also helps to invest in an indoor/outdoor thermometer — that way, you'll see when the outside temperature becomes warmer than your indoor temperature, which is when you want to close the windows of your home or apartment.
3. Take Care of Your Air Conditioner
If you happen to have an air conditioner, or even central air, then you're sitting pretty. However, air conditioning can be expensive — especially if it's not performing at full capacity. Patrick has a couple of excellent tips to keep in mind: "Though it's easy to start piling stuff around your outdoor unit, you want to keep things away from it. Garbage cans, bags, boxes — anything like that. It needs to breathe. As for the indoor unit, you need to keep your filters clean. We just passed the summer solstice — that's a good reminder to clean your filter." To save even more money, you should keep your thermostat as high as you can stand — at least 74 degrees. It's terribly inefficient to turn your home into an icebox during the summer.
Related: 4 Summer Drinks to Keep You Cool
4. Turn Your Furnace on Fan Mode
If you don't have a air conditioning, but you do have a furnace, you can use your furnace fan as, well, a fan. This is especially useful if your furnace is located in a cool basement, as it will draw cool air from your basement and up through the rest of your house. Think of it as poor man's air conditioning. If nothing else, it will improve the airflow in your home, helping you maintain a consistent temperature inside. While running your fan will boost your electricity bill slightly, you'll still end up spending a lot less than if you ran the air conditioner all summer.
5. Enjoy a Cool Beverage
Though staying properly hydrated is important all year round, it's especially crucial during the summer, when the hot air squeezes the sweat right out of you. To stay hydrated, healthy, and cool, you might try Patrick's special sun tea recipe.
Patrick's Sun Tea:
½ gallon water
¼ cup of yerba mate tea
¼ cup of black tea
2 tablespoons honey
Mix ingredients in a large glass jar, and place in a sunny spot for a couple hours. Filter out the tea and refrigerate.
Those are just a few ideas on how to stay cool, temperature-wise. As for how to stay cool in terms of fashion and behavior, you'll need to read another article. Probably this one. Do you have any other inexpensive tricks that've helped you stay cool in summers past? We'd love to see them in the comments. Stay cool, America!
With more than 30 years' experience in the construction industry, Patrick Sughrue is the General Manager of Artisan Tiny House — a Vancouver, WA company that specializes in energy-efficient housing. Visit their website to learn more about what they do.  
Editors' Recommendations