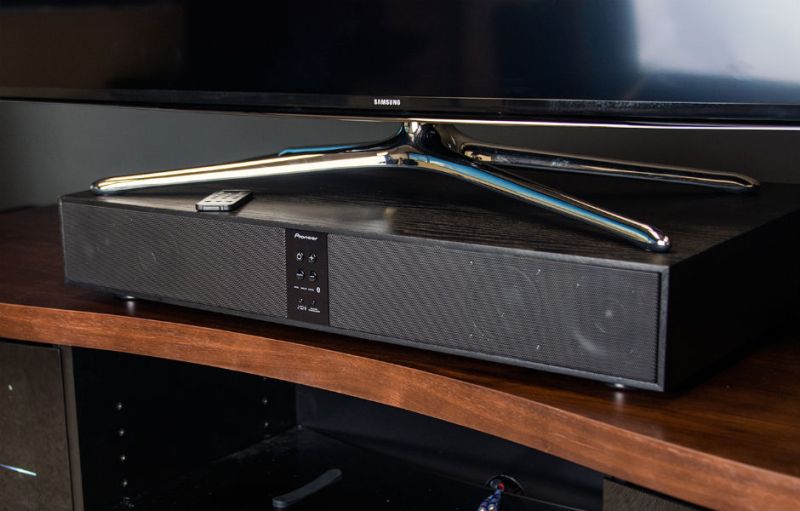 Setting a new standard for performance in the affordable sound platform genre, Pioneer's new SP-SB03 Speaker Base was designed by the company's resident audio guru, Andrew Jones. Like the SB23W sound bar before it, Jones brings his palpable passion for all things audio to the SB03, and the result is something special.
Related: The Quarterwave wireless speaker: part awesome science, part gorgeous aesthetics
Unlike many sound platforms which are constructed from molded plastic, the SB03 is designed around a wood composite cabinet that's braced internally to help squelch unwanted resonance, while also propping up heavier flat panel TVs without buckling under the load.
Inside, the unit is packed with 6 individually-powered drivers, pulling 28 watts each from 168 watts of total system power. The front face harbors dual 1-inch soft dome tweeters and a pair of 3-inch midrange drivers. Underneath are dual 4-inch down-firing woofers to reproduce the low frequencies. The system's active-crossover design helps it achieve better continuity and higher dynamic expression than what you'll hear from a basic fixed crossover system.
Around back is an extremely succinct set of inputs, limited to a digital optical input, and an RCA analog input. As expected, the SB03 is also equipped with Bluetooth wireless streaming, which is a welcome feature considering this device handles music as brilliantly as it does movie and TV audio. It should be noted here that we have encountered a few hiccups with Bluetooth streaming during playback, but nothing that was prohibitive.
And the Bluetooth quibbles are easily quelled due to the fact that the SB03 is hands down the best sounding sound platform we've come across at this price. Vocals and dialog are smooth, yet vividly detailed, upper register instrumentation and effects are brilliantly clear, and bass, while not as powerful as a fully dedicated subwoofer, is richly drawn and potent enough to stir up some cinematic excitement.
Bottom line: For $350, you'll be hard pressed to find a more capable companion than the Pioneer SP-SB03 to help transform your TV audio from pale to potent in one fell swoop.
This article originally appeared on our "brother site" Digital Trends