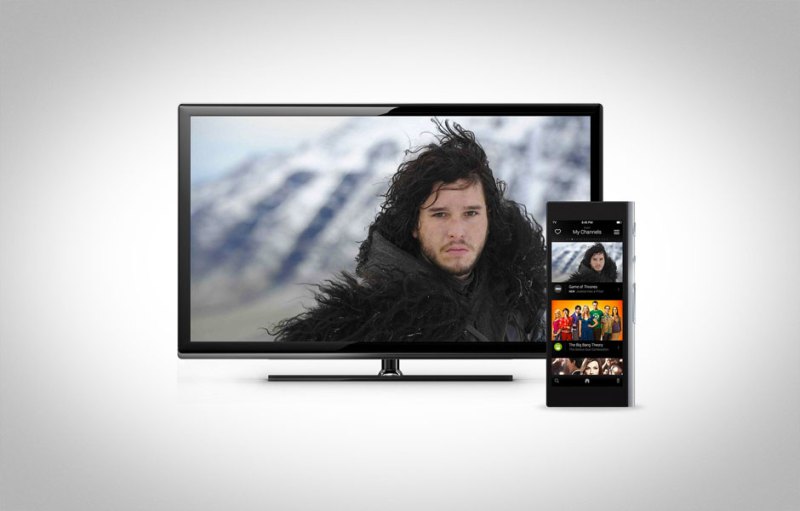 There are all sorts of futuristic universal remotes on the market these days, but many are tied into your phone, spread across multiple components, or part of some ambitious crowdfunding effort. The new Ray Super Remote is none of those things, offering multifaceted control of your home theater in a sleek design that looks and feels like a smartphone, but doesn't tie up its precious resources.
The interface for the Super Remote is setup a lot like your handy-dandy smartphone, offering a low-friction touchscreen so you can easily see what's available, tactile keys on the side for volume and mute, and even a sleep/wake button. The remote links to your Wi-Fi network to enable easy setup, and utilizes Bluetooth 4.0 and IR (infrared) to work with devices both old and new.
Related: Looking for god-like control of your home? Meet Neeo
To make live TV easier to navigate, the Ray remote can pull up your local programming information for whatever service you use, allowing for search by channel or by specific content via the pop-up keypad. And proving it has more smarts than your average clicker, the device is designed to learn what you like over time, allowing you to ask it questions, like when your favorite show is coming on. If you love comedy or drama, tell the system and it will adjust your program guide accordingly, monitor your watching habits, and allow for up or down voting on content.
Ray Enterprises claims its Super Remote works with over 1,200 brands and 200,000 devices, but more importantly the remote is setup to learn IR remote codes so you can program it to control all your old school gear in addition to more modern equipment like Apple TVs, Rokus, and even Xbox. One of the biggest frustrations we've had with these devices is their inability to control our less common components — after all, what's the point of a universal remote if it isn't, you know, universal? As such, we're hoping the device can live up to its "Super" moniker here.
While Ray frustratingly does not offer an estimated battery life, the device does come with a 2,550mAh rechargeable lithium-ion battery. As a comparison, the iPhone 6 has an 1,810mAh battery, so the Ray should have plenty of juice for day-long use. Other specs include a dual-core ARM processor with 8GB of Flash storage and 1GB of RAM, seven transmitting LEDs, and a 1120 x 480 pixel resolution screen, all encased in an aluminum frame. The device also comes with USB charging cables and a charging stand.
The price for all that universal control isn't cheap — the Ray Super Remote runs $200 right now. Still, if you're looking for a serious upgrade for wireless autonomy over your entire home theater setup, this little silver beauty might just be for you. You can pre-order Ray's Super Remote now, with delivery slated for "late Spring."
This post originally appeared on our brother site, Digital Trends.