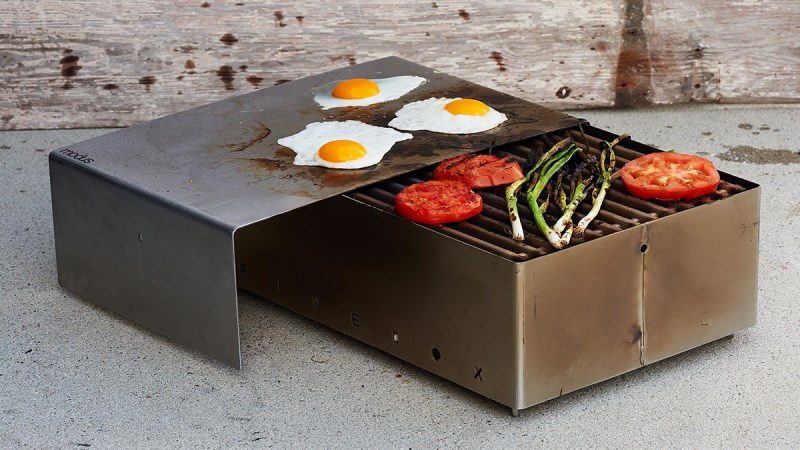 Garden & Gun is all about Southern pride. The magazine, which launched in 2007 and has since expanded into a multimedia lifestyle brand, delivers award-winning coverage of Southern food, culture, architecture, outdoor living, and design to more than 1.5 million readers nationwide. Not to mention their retail ventures Mercantile + Co and Fieldshop, their popular Whole Hog podcast, and the over 75 events they host each year. However, their pure affinity for the people, stories, and traditions of the American South is perhaps never more obvious than in their annual Made in the South Awards.
The awards began in 2010, when the folks at G&G decided to seek out a new way to, as senior vice president and editor-in-chief David DiBenedetto puts it, "shine a spotlight on the talent and creativity of the South's artisans, crafstman, chefs, designers, and tastemakers." Every year, the Charleston, South Carolina-based publication shops, samples, and scrutinizes the work of Southern artisans and businesses across six categories: Style, Crafts, Drink, Food, Home, and Outdoors. With nearly 1,000 entrants in this year's awards alone, narrowing down the list of winners and runners up can be a daunting process. "I've been a part of these awards since the launch," says associate editor Elizabeth Hutchison, "and every year I think it can't possibly become more difficult to narrow down the winners — and then it does." The whole process isn't without its rewards, though: "Witnessing the ingenuity, passion, and drive of each of the … entrants is incredibly inspiring," Hutchison adds. As for those being considered for the awards, the grand prize is a whopping $10,000 cash and a prominent spot in the magazine's December/January issue. This year, the Made in the South Awards saw competitors from a dozen states submitting their wares to a panel of eight distinguished judges that included actress and entrepreneur Reese Witherspoon, president of Savannah College of Art and Design Paula Wallace, and CEO and celebrated designer Bunny Williams. The end result is a collection of 24 carefully curated products that are dripping with pure Southern comfort and quality.
We've gathered up a few of our favorites from this year's group of winners and runners-up. For even more down home greatness, head over to Garden & Gun to check out the full list.
Winner, Home Category and Overall
Husband-and-wife duo Cliff and Leigh Spencer have a passion for design that is evident in every rustic masterpiece they churn out at their Birmingham, Alabama shop, but what you may not see until you dig a little deeper is the compassion that's woven into their products. This gorgeous planked dining table is made from hackberry, an under-appreciated deciduous tree that Birmingham boasts a bounty of. When the couple discovered how many trees were being cut down in their city (nearly a hundred per week), they decided to go all-in on a practice they had dabbled in at their previous West Coast studio: breathing new life into abandoned urban trees by re-purposing them into beautiful furniture and home accessories. The Planked Dining Table is a perfect representation of what earned Alabama Sawyer the top spot on Garden & Gun's list this year: It turns a too-often overlooked Birmingham staple into the star of the show, paying further homage to its southern roots with understated iron legs cast at Sloss Furnaces (a Birmingham staple for so long that it has been named a National Historic Landmark) and tipping its cap to expert craftsmanship with a nearly six-week long, lovingly precise hand-building process. Alabama Sawyer has become so synonymous with this sort of environmental appreciation that people from all over Birmingham now bring their fallen trees to find new life at the couple's studio.
Winner, Outdoors Category
If it's possible for something to be too well-designed, this fire pit-grill combo from Fayatteville, Arkansas' Modus Studio definitely hits the mark. At first glance, the ingenious little Firebox looks like nothing more than a shiny steel case, but once you get your hands on it, you'll find there's a lot more than meets the eye. The Firebox's three simple pieces (fire pit, grate, and lid) can be pulled apart and rearranged to suit multiple cooking styles. In the mood for some toasted marshmallows? Remove the grate and you've got a perfectly portable fire pit (use the lid as a base while you're at it). Want to fry up a couple of eggs before you head out for that hike? Throw the lid over half the grate in grill mode and you've got yourself a handy skillet. Jonesing for some tasty grilled grub but forgot to bring any kindling? Not to worry — the wooden crate the Firebox comes in was literally designed to be safely used as firewood. With such elegant and clever design, it's no wonder the Firebox is becoming a seasoned winner. Not only did it take the Winning spot in the Made In the South Awards' Outdoors Category, it was actually born from one of Modus Studio's annual internal design contests.
Runner Up, Outdoors Category
Part paddleboard, part canoe, this Paddle Bateau from North Carolina's Ian Balding is handcrafted and fully loaded to elevate fishing, surfing, and camping adventures alike. The idea for this amalgamation came about when Balding himself grew tired of trying to haul gear around on a typical SUP, and the craftsman's genuine passion and skill come through in a design that is as drop-dead gorgeous as the scenic waters that inspired it. The Bateau is shaped and glassed by Balding in his Wilmington shop, with a brilliant, beautiful white finish that pops against gorgeous bamboo decking. The result is a paddleboard that is sturdy enough to tote all of your gear, comfy enough to fish from, large enough to bring a friend along, and durable enough to last through adventure after adventure. Quite frankly, the gorgeous aesthetic and pure reliability of the craft alone are enough to make Balding's Bateau well worth the price tag, but he's not one to leave a stone unturned. The Paddle Bataeu is topped off with rod holder, cooler tie-downs, bungee webbing, and GPS.
Runner Up, Craft Category
We love to say everything's bigger and bolder in Texas, but this cutting board and knife set proves that Texans know how to do small and sophisticated just as well. The set, from Houston's own McKenzie Knife Company, is both understated and elegant, using carbon steel, bone, and Austin mesquite to create a home bar accessory that is as well-crafted as it is attractive. Jonathan McKenzie, the expert cutler behind the design, doesn't stop at the visuals. He specifically selected the carbon steel and bone used in the knife because both materials age well, and he chose the wood for the cutting board as an homage to his beloved state. He also slipped in a magnetic, leather-lined alcove for easily storing the knife in the cutting board to up the function of the piece. Wrap that all up, and it's easy to see why this neat little package made G&G's list as a Runner Up in the Craft category.
Runner Up, Food Category
Fat. It seems like we're constantly stuck in limbo with the controversial flavor-bringer, always waiting to hear some new list of reasons why it's both the cure for and cause of all our food-related woes. The truth is, fat is an incredibly valuable cooking tool, but just like with anything else, the source matters. Sure, throwing some old fast food grease in your Christmas cookies isn't going to wow anybody, but have you ever tried putting a little dab of high-quality lard in that batter? (Fair warning: Only do this if you're prepared to be invited to every holiday party thereafter.) Shawn and Jenny Hatley, members of a fourth-generation farming family and owners of North Carolina's Naked Pig Meat Company, know the magic and wonder that is high quality lard, and they are ready to help you see the light. Their Pastured Pork Leaf Fat is sourced from humanely raised, antibiotic-and-hormone-free hogs, processed in small batches, and triple filtered for a final product that is so smooth, shiny, and delectable that you're going to want to tear open your fridge and throw out every scrap of butter and bacon grease you've been naively saving up in there. What's really great about this Pork Leaf Fat is that it never hogs the spotlight; its true talent lies in being able to elevate anything and everything you pair it with, from sweet crumbly pie crusts to hand-battered crispy fried chicken.
Editors' Recommendations