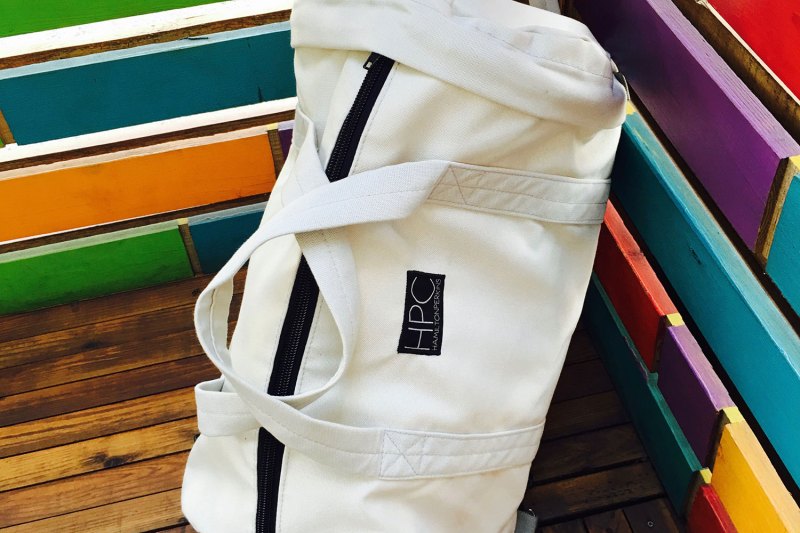 Plastic is cheap to make, versatile, and light. It's also one of the most difficult things to recycle and so, unfortunately, even when diligently put in the recycling bin, it often ends up in landfills, incinerators, or worse, oceans. The Hamilton Perkins Collection (HPC) is offering a fourth option: turn it into your favorite new travel bag.
Hamilton Perkins, president of the eponymous company, originally comes from the corporate banking world. For years, he was a Bank of America Analyst for multi-million dollar companies, but he was also heavily involved in volunteer work and non-profits, so it wasn't a big leap to start helping the earth. After all, Perkins is a problem solver.
The Hamilton Perkins Collection makes sleek, modern, and incredibly durable luggage out of 100% recycled plastic and then, in a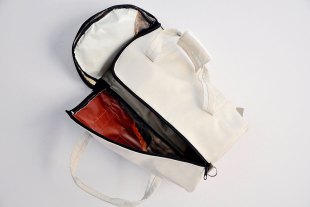 really awesome twist, lines them with old billboards, which removes even more debris from landfills! Each bag has a different, vibrant lining, so they may look the same on the outside, but inside your bag is totally unique.
As for the actual design, the company spent a lot of time interviewing travelers to find out how their luggage function was lacking and what their dream bag would look like. Through that research, the collection was born. The Earth Bag, for example, has a 3-way zipper compartment that is specifically designed for laptops, tablets, books, or anything you'd need easy access to. It's also convertible, meaning you can wear it as a backpack or carry it like a duffel. Did we mention they start at just $95?
Transparency was another important aspect to Perkins. Complete transparency in fact. They have a chart outlining not only their good work, like number of plastic bottles diverted from landfills or the small amount of water they use in comparison to some luxury bags, and they even show you their CO2 emissions. They then break down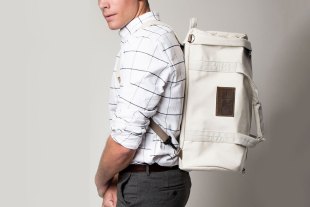 each dollar that goes into the manufacturing so you can see not only how it gets made, but also how little markup there is. Plus, to date, they've generated over 200 jobs in Haiti where the plastic is sourced, even though the the bags are all made in the United States. There's a reason Hamilton Perkins Collection was awarded the B Corporation certification.

Perkins turned to Indiegogo initially to fund his idea and earned the requested amount in about a week. As of the date of publication, the Hamilton Perkins Collection campaign had earned $23,302, making it 229% funded. Clearly, Perkins has brought a number of consumer, manufacturing, and ecological problems together for a fashionable solution that people are responding to.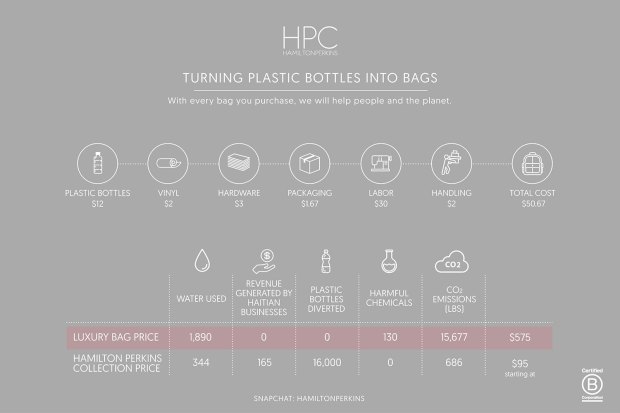 Editors' Recommendations