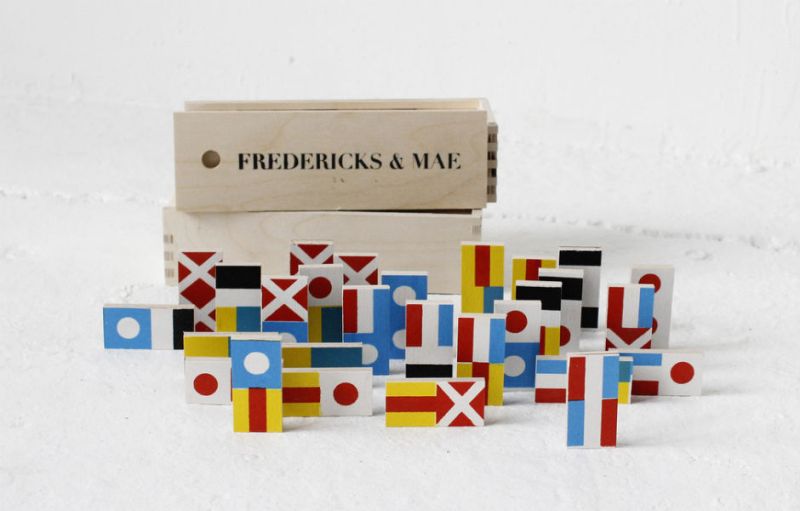 Don't you think games would be more fun to play if they looked good? That's what Jolie Mae Signorile and Gabriel Fredericks Cohen thought after they met over a love of for materials. Think feathers, thread, gold and paper. In 2008 that love of materials made them come up with the idea of Fredericks & Mae, a collaborative design practice that offers "a series of objects for the home, garden and sky."
The pair basically took games —dominoes, darts, and backgammon to name a few — that we've all played, and put their own special design twist on things, so now they can be used not just as entertainment, but as decorative objects within the home. The pair go all over the world to search for materials to embellish their objects with. "We get our materials from all over — kite paper from India, feathers from bird sanctuaries in Queens and California, wooden shapes from Ohio, and horse hair from Mongolia, just to name a few," they recently said in Apartment Therapy.
If you're looking for something especially season appropriate, take a look at their Endless Summer collection, which offers games like beach tennis with the company emblem, a bull's eye, olive branches and stars painted on, or flag dominoes — which is, you guessed it, a set of dominoes with flags from countries like Spain and Japan on them, or the travel checkers for a day at the beach with a square design painted in the negative space. Or if you're feeling particularly competitive, check out their War Games, which has the coolest dartboard and darts that we've seen in our lives. The board doubles as a cool object to hang on your wall and the darts are decorated with with feathers and different shades of colorful thread that they've wrapped around them.
Father's Day is coming up, so might we suggest something from Fredericks & Mae? We bet he'd be pretty excited to get something from them.
For more information, visit fredericksandmae.myshopify.com.
Editors' Recommendations