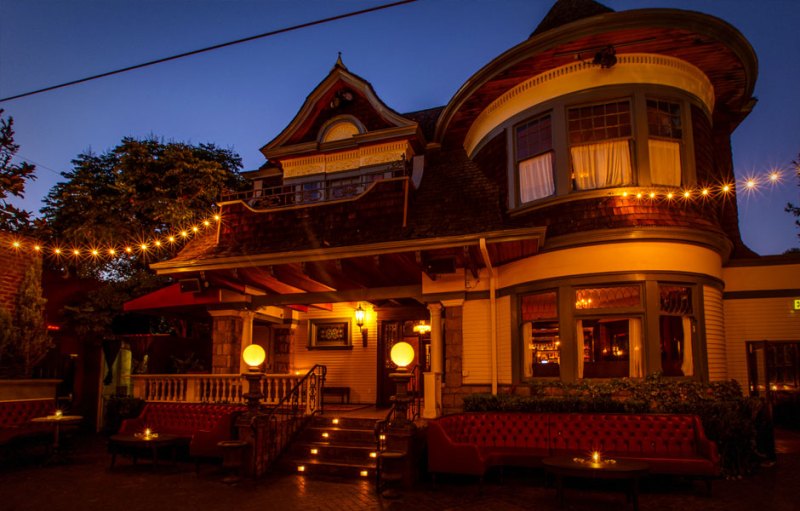 There are certain things about No Vacancy that must remain secret until you visit. For example, the entrance and everything it entails. No Vacancy takes its speakeasiness seriously in the best way possible– once you make it inside, you're not just in a hidden bar, you're in an alternate reality with surprises around every corner. Oh, and great booze.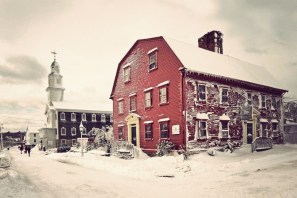 The Houston brothers, who are behind other LA favorites like Harvard & Stone, La Descarga, and Break Room 86 just to name a few, have a knack for creating whole worlds and histories for their bars. This time, they took one of the city's oldest Victorian homes, built in 1902, and created No Vacancy at the Juniper Hotel, giving you the feeling you've traveled back in time to a delightfully creepy hotel. It's all deeply colored woods, plush red velvets, oriental rugs, and leather furniture– such attention to detail suggests the 20th century inhabitants have just stepped out. The Houstons carefully maintained the home's leaded glass windows, gas lamps and fireplaces, adding bars where a kitchen may once have been. Cocooned in this rich fantastical world, it's almost impossible to remember it's 2016 outside.
A lobby area, complete with mailboxes for "guests" bleeds off into a large bar room, keep an eye out for the phone booth, which is now the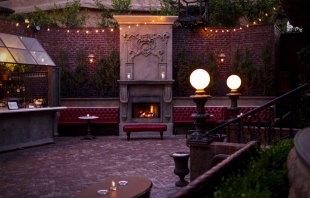 photo booth, and stop by the gift shop of sorts where you can often find a psychic on hand. Then head out to the expansive patio, complete with its own bar and fireplaces. The patio feels like you're at a Roaring 20's Hollywood party. String lights looping across the space give way to a thicker wire running across like a tightrope. Because it is a tightrope. No Vacancy has tightrope walkers, live music, burlesque dancers, and even fire eaters. It's an outlandish spectacle Gatsby himself would approve of.
Booze is an equally important part of the experience and some of the finest bartenders, Adrian Biggs, Julian Cox, and Simon Ford among them, were brought in to create the perfect drinks for the Prohibition-era theme. The Dirty Dozen they call them, and in keeping with the Juniper Hotel name, gin is heavily featured. If you're not sure where to start, order the China Doll: Caprock Gin, jasmine water, lemon juice, coconut jasmine cream and egg white. Tiny details like garnishes of edible flowers set this place apart from most other mixologist hotspots and make the $10-$14 per drink a bit more palatable.
Dress code (no flip flops, athletic clothes, hats or loud colors) is strongly suggested, though not mandatory, but you really won't want to look like a slob at this place. Come early or you risk standing in line, not just to get in, but also for drinks. Then again, there is much to distract you, so the wait won't feel so tedious.
Editors' Recommendations