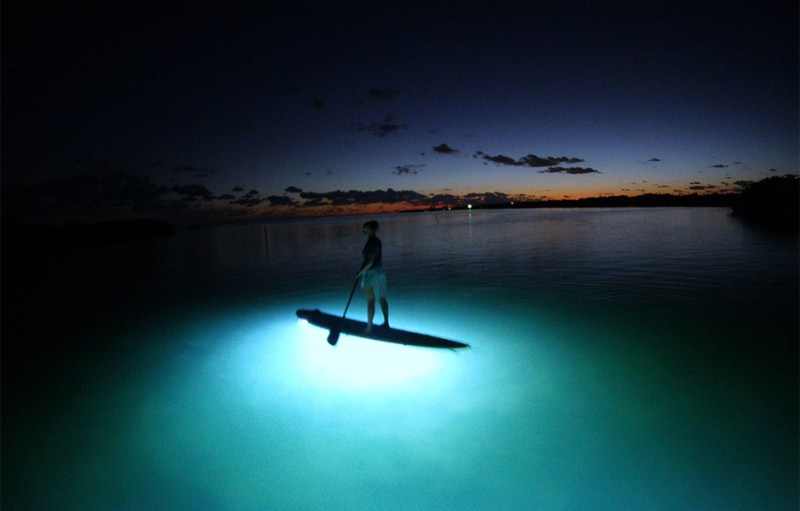 If you love being in water as much as we do, not even nightfall can pull you out. Unfortunately, unless you're near lights coming from boats, it's pretty much impossible to see anything directly underneath you. Lucky for us Billy Rossini developed a solution in the Nocqua 2000 Underwater LED Lighting System. Simply attach the Nocqua 2000 Underwater LED Lighting System underneath your paddleboard or small boat and watch your world change. The Manual recently caught up with Rossini to learn how he developed the Nocqua 2000 Underwater LED Lighting System.
What was the inspiration for the Nocqua 2000 Underwater LED Lighting System?
I was living in Key West, Florida where I was paddleboarding regularly at night. My paddling spot was in a marina full of fishing boats with transom mounted LED lighting systems. The lights created a very cool effect and attracted marine life as well. That's when the spark ignited to start testing a variety of lights under my board. I wrote the provisional patents to protect the concept shortly after.
How many prototypes did you have to make?
I would guess I tested 40-50 variations before I arrived at my current design, which is called the Nocqua 2000.
What qualities did you want it to have?
I wanted it to be as bright as possible, rechargeable and durable. Devising the attachment system that didn't require any modifications to a board, removable and fits every board, Kayak or Canoe proved to be quite a challenge. We knocked it out of the park with our current design.
What are the best ways to use it?
Attach it to any paddle board, kayak or canoe to illuminate a huge area below and around you for a truly unique experience. Using the Nocqua 2000 for fishing, flounder gigging or catching lobsters is a blast. The lighting system splits in half, which allows the user to attach it to a tree for awesome campsite lighting or general outdoor applications. We even built a strobing S.O.S. mode into the lighting system to signal for help if needed.
What has the response been?
The response has been overwhelming since our launch only a few months ago. We now have dealers, distributors and tour operators all over the world, and that number is growing daily. The coolest thing for me is seeing images and reading the stories of people having a great time using the Nocqua 2000.
The Nocqua 2000 Underwater LED Lighting System, $425 at fancy.com.