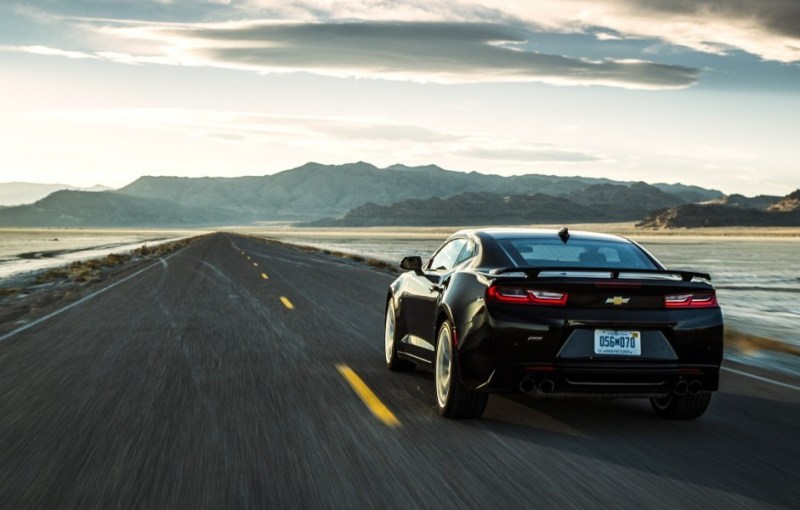 Since 1966, the Chevrolet Camaro has kept pace with some of the most powerful muscle cars on the road. Though the Camaro ceased production in 2002, the nameplate gained new life with the 2006 concept and the Transformers character it inspired. As interest reached fever pitch, Chevy went to work on the 2010 model, which took home the World Car Design of the Year Award.
And now, the highly anticipated 2016 Camaro — the genesis of Camaro's sixth generation — is poised to hit the showroom. On the way there, however, Chevy has decided to take the scenic route.
Related: Road Trip America: 3 of the Best Scenic Drives in the U.S.
In celebration of the 2016 Camaro and the nameplate's 48th year on the road, Chevy has embarked on what will surely go down as one of the most epic American road trips of all time — a 170,000-mile journey through all 48 contiguous U.S. states.
Over the past few weeks, Chevy has invited top automotive journalists to "#FindNewRoads" as they test drive the bejesus out of the new Camaro. Indeed, social media has been blowing up with fantastic images of the 2016 Camaro next to both well-known and little-seen American landmarks. It should be noted that throughout the 171,252-mile quest, there was not a single call for roadside assistance.
Alex Kalogiannis, an automotive journalist from our brother site, Digital Trends, was lucky enough to drive the 2016 Camaro from Orlando to New Orleans. He touts the new generation as a hearty improvement over previous models, and much nimbler than Ford's Mustang and Dodge's Challenger. Kalogiannis also has high praise for the integrated OnStar system, which turned the Camaro into a velvety smooth 4G LTE Wi-Fi hotspot.
Tomorrow, November 18, Chevrolet will celebrate the official end of the Find New Roads road trip at 1300 South Flower St in Los Angeles, CA. Enthusiasts can arrive at 4:30 PM for early access, and the event will open to the public at 6:00. Guests will be encouraged to ask all sorts of questions about the 2016 Camaro and receive answers from the vehicle's designers and engineers. The first 200 to arrive will receive free stuff!
(Feature Image Credit: © General Motors — Wendover, Utah. AJ Mueller / Chevrolet)
Editors' Recommendations