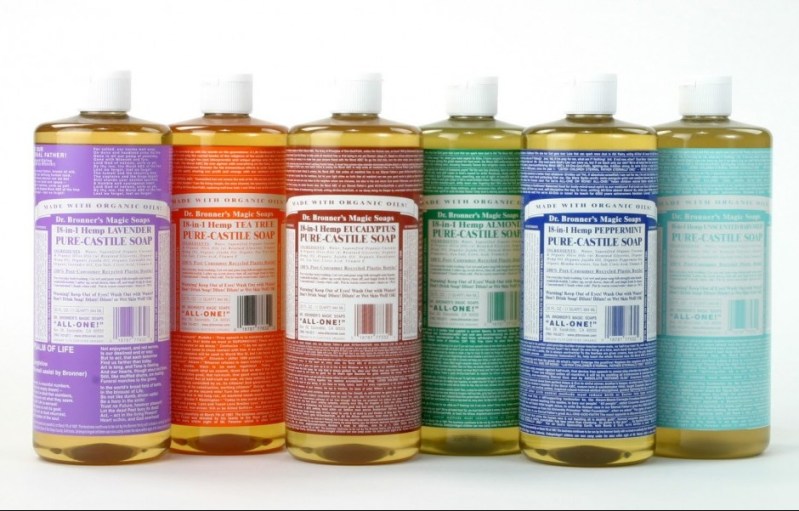 You probably know Dr. Bronner's as the "18-in-one" soap brand with a whole lot of words on the label. If you took the time to read these words, you would pick up on at least two things: one, the rambling, almost insane writing; and two, the exuberant insistence that humanity is ALL-ONE!
This is a surprisingly sunny outlook considering that Emanuel Bronner's parents were casualties of the Holocaust. What's even more amazing is that Dr. Bronner's actually follows through on their labels' dreamy rhetoric. Indeed, Dr. Bronner's is a humble, no-nonsense soap brand that's dedicated to environmental and social responsibility.
Dr. Bronner's use organic, fair-trade ingredients, ensuring that both workers and the environment are treated fairly. They even go out of their way to purchase olive oil from both Palestinian and Israeli producers. Not only is Dr. Bronner's helping ensure hospitable conditions for Palestinian workers, but the business arrangement itself is a symbol of peace and conciliation.
The soap brand has also partnered with a number of organizations that are driving positive change in the world. Most recently, they provided free soap for the crews of three Sea Shepherd vessels bound for the Faroe Islands. The non-profit marine life conservation organization is engaged in an ongoing campaign to expose inhumane and illegal whaling practices.
Related: Reduce Your Carbon Footprint, Not Your Swagger
Dr. Bronner's makes a fine product, to boot. Their 18-in-one "Magic Soap," is supposedly effective for everything from washing your hair to brushing your teeth to mopping the floor. The ingredients are all-natural, with no genetically manufactured organisms or animal testing involved. Their classic Pure-Castile liquid soaps now come in eight scents, including tea tree, almond, lavender, and citrus.
If you're the kind of guy who doesn't like to fuss around with dozens of different cleaning products, you'll find that Dr. Bronner's is a good way to go. While it may not be the best at anything, it's pretty good at everything — especially when it comes to making a positive impact on the planet.