Sprinting through Whole Foods last week, scrambling to pick up last minute holiday party snacks and booze, I saw a sign in the wine department where you could drop your old, used wine corks to be recycled by a company called Cork Re-harvest. I snapped a shot of the name and got back to my sprint.
Now that the holiday has passed, I have had a chance to sit down and look into this dynamic company.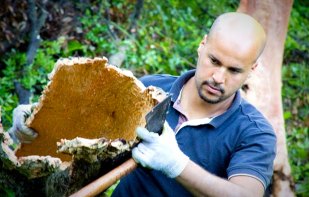 Here are some facts that popped my cork so to speak (sorry, had to):
America is the largest consumer, producer and importer of wine.
There are seven million acres of cork forests in Portugal, Spain, France, Italy, Morocco, Algeria and Tunisia.
The trees are not cut down to harvest cork and it is re-harvested every nine years for up to 200 years. (Harvesting cork is like sheering sheep; you don't kill the sheep to get the wool).
There are about 100,00 people whose lives are impacted by the cork industry.
Family farmers own 90% of the cork forests. It takes about 45 years for a tree to mature to produce cork for a wine bottle.
Cork has been a closure for 5,000 years (Archeologists have found cork in ancient ruins). Cork in wine really kicked off in the 17th century. Prior to that they would use bees wax melted onto a cloth or pour olive oil on top of the wine to seal it.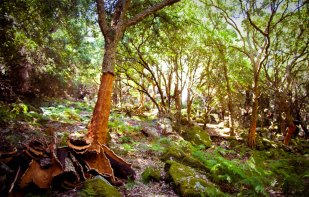 I rang them up and had the pleasure of speaking with Patrick Spencer, Executive Director of the Cork Forest Conservation Alliance which advocates for protection and preservation of the Mediterranean cork forests.
How did this organization get started?
I was the sustainability coordinator for an Oregon wine company called Willamette Valley Vineyards. At the time I was there we were working with the cork companies and the Forest Stewardship Council and the Rainforest Alliance. We were working on being the first in the US to use FSC certified cork in our wines.
Doing that got me invited to visit the cork forests in Portugal. During that trip I had a huge epiphany. I have been a part of the slow food movement and sustainable projects for years yet I never knew about cork and cork forests and how much certain people depend on the revenue from cork.
When I realized how much the cork is integral to this community, I wondered why anyone isn't educating people about the cork forests? When I came back to Oregon we started talking about this at the winery and once the recycling project started, we realized we risked credibility. "Aren't you doing this just to sell wine?" was what we heard. We didn't want this to be a diluted project, so we figured this should be a separate organization. I realized I couldn't wear two hats so I left the winery in 2008 and The Cork Forest Conservation Alliance has really grown since then.
Why should people be drawn to your non-profit?
Many environmental causes have an emotional pull from seeing Polar Bears or Dolphins. The cork forests don't necessarily have a cute factor but what they do have that is significantly unique is a culture, food, wine and environmental tie-in that makes it really unique.
There is an intimate relationship between the farmer and the tree since they go back to the trees for generations. There are festivals and a real fabric of life that is fascinating in all of these regions.
Why are there so many rumors about cork being an endangered resource?
Much of it comes from the companies selling non-cork closures to wineries.
How does cork re-harvesting work?
We are not necessarily interested in recycling. Cork in a landfill isn't a bad thing. It is not like a piece of plastic since it biodegrades and will actually help the soil.
Each cork sequesters 9 grams of Co2 so you are keeping that out of the atmosphere.
Our thought was, if we can get people to recycle cork and people will read a couple of lines about cork at the recycling box, this will educate the public. It has worked!
How did you get into Whole Foods?
We are so proud to work with Whole Foods. We have been with them for five years. Every Whole Foods in America has one of our bins. That is a big honor since they usually don't enforce programs to all of their regional stores but we are in all nine regions.
How are the corks recycled?
Each of our cork recycling partners has created different products for the corks we provide them. The corks cannot be reused for wine bottle closure and therefore, do not reduce the need for new cork production. Some of the ways they are recycled include:
Western Pulp is mixing cork with re-pulped newspaper to ship wine.
Corkology is making a variety of consumer products such as coasters, wine racks and mouse pads.
Jelinek Cork is making various consumer and industrial products such as cork flooring, cork tiles and sound control cork.
What is your next project?
The big thing for 2015 is the Cork Forest Eco-Tour. We are taking 8-10 people four times a year to the Spanish forests during harvest. Guests will experience the incredible festivals and harvesting traditions in these amazing regions as well as visit three UNESCO heritage cities. We have done some 'test' trips and as you can see from the photos, they are really special experiences.
To find out more about the tours, click here.
Photo Credits: Jordana Wright Photography
Editors' Recommendations