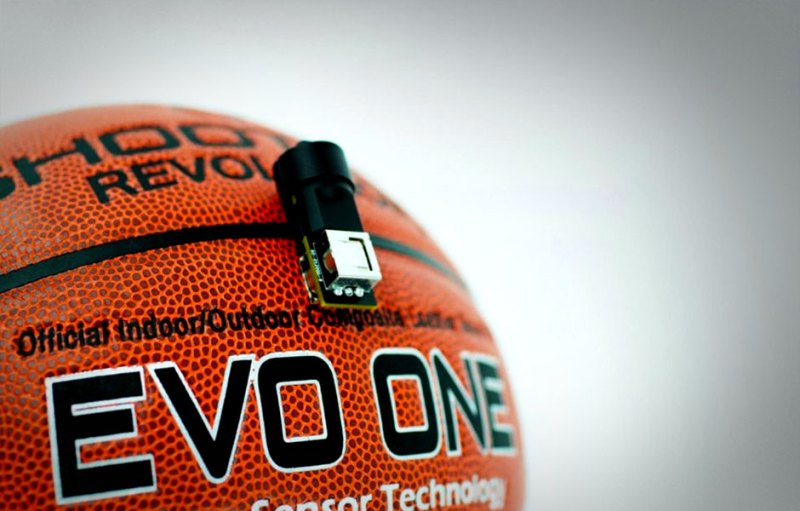 The first thing to go is your jump shot. This is a common piece of knowledge for anyone who has ever played basketball. When you step back on the court for a pick up game, you can usually still handle the ball, pass, drive and make lay-ups, but shooting that open jumper can be tough. Pick up basketball players everywhere can now breathe a sigh of relief, because the guys at Shooter's Revolution have you covered.
Shooter's Revolution have developed a revolutionary product in their EVO ONE basketball. This ball looks like any other basketball you've seen: burnt orange, leather and round. However, on the inside, the EVO ONE comes with a micro sensor that, once inserted into the ball, tracks your shooting motion in real time. The sensor picks up on release, backspin and other shooting mechanics and measures the efficiency of your shooting motion.
Using immediate audible feedback, while the ball is in flight the EVO ONE alerts the shooter when the ball is shot correctly. The shooter can then replicate their approach and motion to the shot in order to hone in on proper shooting mechanics. This kind of virtual "coaching" feature is perfect for developing players at the junior high or high school level, as well as for the twenty or thirty-something who is just looking to knock off some rust before joining an office intramural or neighborhood squad.
The EVO ONE is made with all the standard regulation weight and size standards of your typical Spalding NBA brand basketball—you won't look out of place on the court. Plus, once you finish practicing your shot, you can simply remove the sensor and play a game of pick up.
The EVO ONE is currently available on the Shooter's Revolution Kickstarter webpage for $59.00, but that offer is available for a limited time only. We recommend that you jump on the cutting edge of hoop technology while it's still a steal.