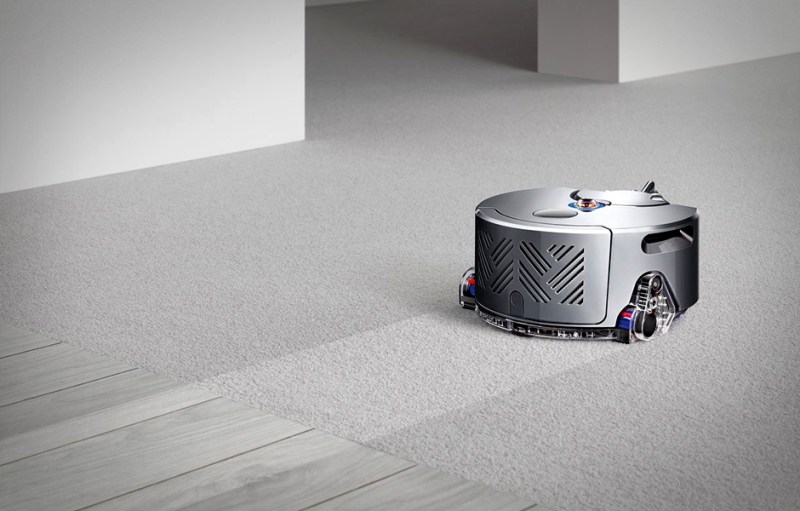 If you're anything like us, you probably think something so mundane as a vacuum cleaner could never evoke that "gotta have it" feeling common with other technological wonders. However, the latest creation from the suction-obsessed mind of James Dyson proves that, when it comes to the radical future of robotic devices, anything is possible.
The folks at Dyson unveiled the new smart vacuum, the 360 Eye, before a crowd of onlookers at IFA this week in Berlin, invoking nothing less than amazement. A vision that's been 16 years in the making, the shiny silver contraption brings brains, brawn, and brilliance to the genre, making manual vacuuming (or sweeping) of any kind a thing of the past. Honestly, all we need now is a lawnmower built under the same specs, and weekend chores will be cut in half.
The cool little bot sports some very impressive tech that makes it tick. On board is the same cyclonic suction engine that gives the standard Dyson its claim to fame, assuring problematic carpet parasites like fleas, bacteria, and dirt are unlikely to stick around in your shag. And perhaps even more appealing, carbon fiber bristles allow the device to sweep dust off of hard floors as well, essentially allowing you to clean your entire pad without lifting a finger.
The machine rolls around on tank-like treads so it can make it's way over almost any surface, and the great "eye" on the top, in the form of a panoramic camera, gives it a 360 degree view of its surroundings. The lens can then shoot the room in search of obstructions, and triangulate them with its on board computer to figure out where it's going, and where it's been. The smart mapping assures the device will tackle the entire floor, and avoid potential pitfalls that might keep it slamming into walls for hours, as can happen with some other robotic vacuums.
Other futuristic features include an app so you can control the vacuum and survey its progress while away from home with your smartphone, and a high-speed digital motor that makes it the most powerful robotic vacuum on the market.
The Eye 360 is currently slated for a 2015 Japanese release at present, with no stateside dates announced. Dyson also hasn't released pricing yet, but with something this useful, does it really matter? We know what we'll be saving up for.
Editors' Recommendations