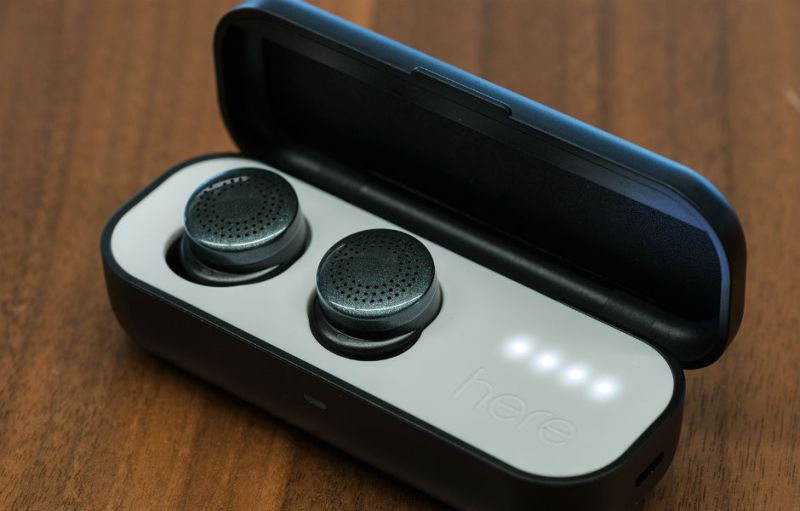 Last month at CES in Las Vegas, we were caught off guard by a unique new pair of wireless earbuds that aren't earbuds at all. The Here Active Listening System from Doppler Labs allows you to alter the way you hear the world around you — in real time. We've called them "smart earplugs," but you might also think of them as augmented reality for your ears.
Our own sample of the Here system just arrived in the mail, and while we've seen our share of Kickstarter catastrophes, these have only impressed. We haven't had the chance yet to take them along in many real-world scenarios, but even just sitting at your desk, Here offer an extremely impressive sonic experience.
Related: 1More's Triple Driver in-ears bring brilliant sound for $100
You control the earbuds through the free Here Active Listening app. It walks you through a quick auto-pairing (one of the most painless pairing experiences we've encountered) and then you're ready to roll. After putting the ear buds in, there's a slight adjustment to their piped-in sound. But once you've taken up the reins of the intuitive app, things really get interesting.
Users can engage active noise cancelling at up to -22 dB, enhance hearing at + 6 dB, use filters to target and extract specific noises, and even add sound effects and real-world sonic environments. Each mode offers its own impressive suite of digital signal processing that allows you to essentially mix the sounds around.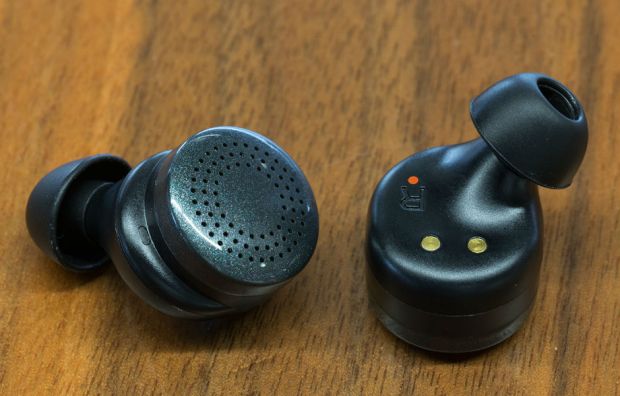 What's more, the system offers a five-band EQ which allows you to raise or lower the bass, mid-range, and treble of the sound around you — especially useful for rock shows, dance clubs, or any other loud events — such as, for instance, 60,000 screaming fans around you in a football stadium.
The system reacts to the sound around you by sourcing audio waves from tiny microphones inside the buds themselves, as well as the mic inside your own smartphone, allowing the system to read and react to your environment, with imperceptible delay (less than 30 milliseconds).
Like other fully autonomous wireless buds we've reviewed, the Here Active's case acts as both a home for the buds, and a charging unit. The buds last for an estimated four to six hours of runtime on a full charge, and the battery inside the case also stores two more full charges when you're on the go.
Related: Astell&Kern gets smooth with new AK320 hi-res player
Unfortunately, Doppler is currently only filling Kickstarter orders, as well as orders for a few lucky attendees at Coachella 2015 right now now, meaning you'll have to wait patiently while the new product makes its way to market. Doppler says the goal is to "develop Here into a mass consumer product over the coming months." The price, if and when the system does make it to retail, is expected to be somewhere around $200.
And it appears this is just the first wave of what the Here Active Listening System can do. In a press release today, Co-founder and Executive Chairman of Doppler Labs Fritz Lanman had this to say. "Here is not a headphone. It's a computer for the ears – and the first app we built is designed for enhancing live music experiences…This is just the tip of the iceberg of what Here can eventually do."
We hope the Here Active Listening System will make it to stores sooner than later, as these buds are nothing short of revolutionary when it comes to hearing preservation, augmentation, and enhancement. And it appears this is just the beginning for the buds. You can check out more about the Here Active Listening System at the company's website.
A version of this post first appeared on our "brother site" Digital Trends.
Editors' Recommendations