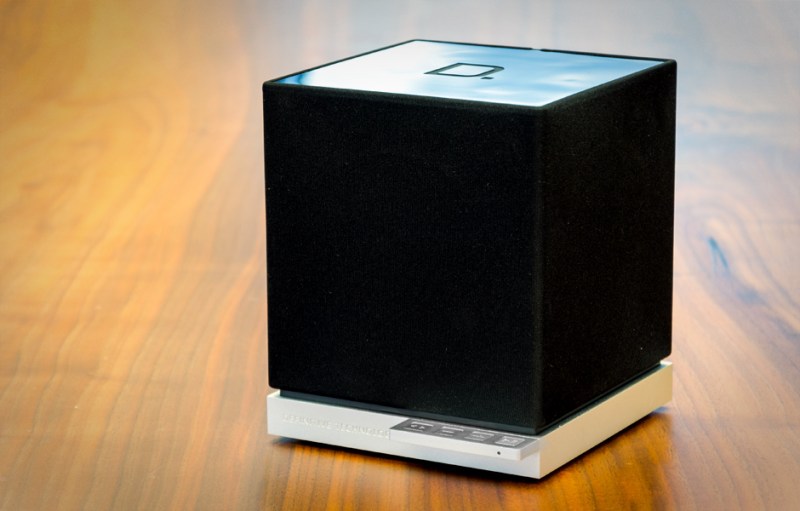 Multi-room wireless speakers are the easiest way to spread sound around your home — without calling the installer. Companies from Sonos to Samsung have created multi-room speaker series, allowing you to control a bevy of pieces from numerous sources, all from a single app. But while most of these speakers are proprietary, the latest from Definitive Technology, the premium W7, uses the new open-source Play-Fi protocol that allows you to mix and match speakers from several brands.
And it looks pretty good doing it, too.
Related: Sonos Play:1 goes blue for 75th anniversary of Blue Note Records
The W7 is crafted into a beautiful cube of sound. The speaker sports the same signature molded silver metal against black we've seen from Def Tech before, from computer speakers to sound bars. And thanks to its design, the speaker is able to spin sound from both the front and sides to load up the room with your favorite tunes.
Inside the speaker are a nice collection of drivers, including dual 1-inch aluminum dome tweeters matched by a 4-inch midrange driver at the front, and another 1-inch dome tweeter at each side, along with twin passive radiators at the sides to beef up the bass.
The speaker definitely compensates for its small size (around 6-inches on all sides) by loading up the low end with some musical heft. And while that makes the midrange a little cloudier than we'd like, there is some vivid brilliance above thanks to those dome tweeters. Pin-point precision in the treble makes for some fine listening, especially for lighter arrangements, like acoustic tracks and jazz.
There's also a digital Optical port, and a 3.5mm port to plug in. And of course, thanks to Play-Fi, you can mix and match the W7 with other brands, including Polk (Def Tech's sister brand), Wren, and Phorus for starters, with more brands slated to come on board. Perhaps best of all, the app is intuitive, clean, and easy to use, allowing you to source audio from your phone, media servers, Internet radio stations, and services like Pandora and Deezer. However, there's still no Spotify — yet.
At $400, the W7 is pretty pricey. And we should also mention the top of the speaker scratches easily, so you'll have to be gentle. But if you're looking for a stylish cube of sound that will grow with more pieces in the multi-room speaker fashion, this new Play-Fi device from Def Tech is a fine choice.
Editors' Recommendations