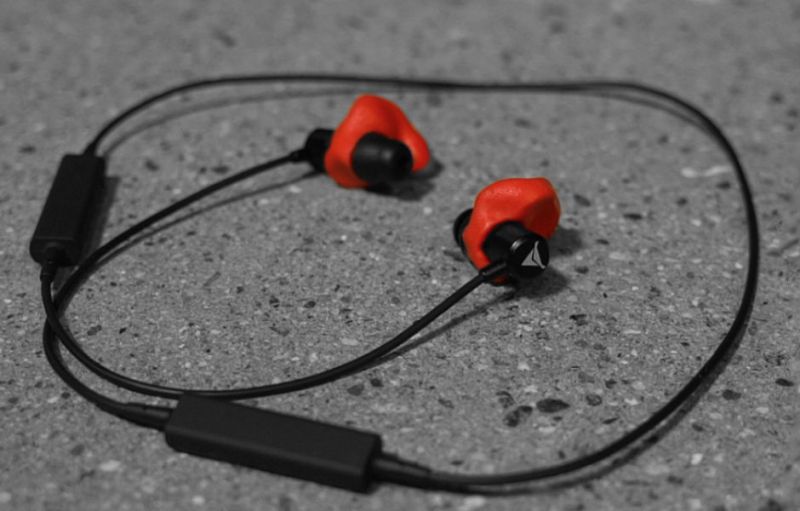 For years headphone companies have sought to solve one of the most vexing problems of in-ear headphones: the fit. A good fit is a vital component to achieving quality performance. As such, we've seen some novel solutions to the custom in-ear conundrum over the years — but the "thermoplastic" design of Decibullz might just take the cake. Borrowing a page from sports mouth guards, Decibullz use hot water to to loosen up a material that molds to your ear canal as it cools. And now, the company has upped the innovation stakes even further with a new wireless option. The kicker? They're only $90 on Kickstarter right now, with an eventual $150 MSRP.
There are a lot of reasons custom-molded earphones are superior to stock buds. Not only is the sound vastly superior to cookie cutter models, but a good set of molded earphones also offers a high level of noise isolation. That means they not only protect your ears better, but they also isolate the sound for a purer performance. The Ultimate Ears Pro Reference Monitors yours truly uses, for instance, offer up to 26 dB reduction of ambient sound, and unparalleled sonic accuracy. The problem for most folks? These 3D-printed engineering marvels run around $1,000.
Related: Take the studio along with UE Pro's Reference Remastered in-ears
It's a foregone conclusion that Decibullz can't come close to the sonic performance of top-tier in-ears like the UE RM, wireless connection or otherwise. But the new Decibullz Wireless do come with some impressive specs, among them a claimed 40dB reduction of exterior noise! Other features include a machined aluminum base, a claimed five-hour battery runtime, a three-button control microphone, and sweat and water resistance, making these a great bet for your daily jog.
As for customization, the earpieces work by combining their aluminum core with a special "Easy Fit Earpiece," which goes around the base of the Decibullz, sporting a basic silicone tip. The earpieces soften in hot water, and then cool off quickly "while maintaining their moldable properties," which is a good thing, since you don't want to burn the crap out of the inside of your ear canal. The earpieces retain their molded shape once cooled, and can even be remolded multiple times.
One thing we're not crazy about is the way the wires hang down, which looks a little precarious, and isn't exactly the most stylish wireless in-ear design we've seen. Still, it's not easy to cut the cord entirely on in-ears — very few companies have accomplished the feat — and the company claims that the length of cabling is what helps the Decibullz preserve battery. We also have to say: the wired portion is a lot less cumbersome than similar designs we've seen on the market. The headphones also come in seven different colors.
Of course, we have no idea how the Decibullz Wireless sound, but their first wired option took off swimmingly on Kickstarter and even managed to garner a CES Innovations Award, according to the company.
If you've been looking for custom-molded in-ears, but you don't have the scratch for the pricey stuff, Decibullz might be right up your alley. And the new Decibullz Wireless take the convenience factor even further, making these a prime candidate for more active users.
You can get your hands on the Decibullz Wireless by pledging at the company's fully-funded Kickstarter campaign until December 12, or simply wait for them to make it to market.
This post was originally published on our "brother site" Digital Trends.