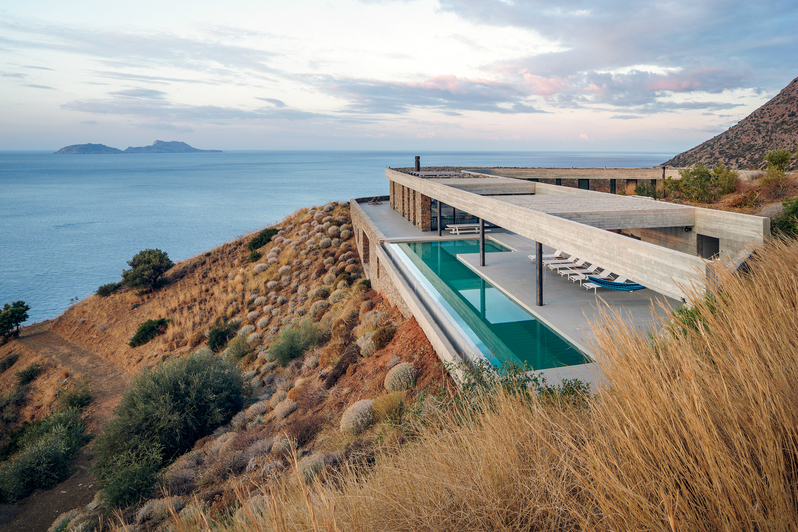 Building a home is hard on the environment. Even when built with sustainability in mind, the land surrounding a home site takes a hit that can disrupt wildlife, kill native foliage, and reshape the ground from months of construction vehicles driving back and forth. With this is mind, one Greek architectural firm took steps before breaking ground to ensure Ring House would give back to the land rather than take from it.
Designed by decaArchitecture, Ring House (and its accompanying guest house) is one with the land in a way we haven't seen before. While it's sustainable with windows strategically placed for cross ventilation and receives its power from solar panels on the roof, the project also restored the natural beauty that was disrupted during its construction. The team at Deca carefully mapped the site and preserved the excavation materials so that they could restore as much of the topography as possible once the home was finished. They also collected seeds from the native vegetation in order to replant it once the construction was complete, resulting in a lush, native landscape surrounding Ring House.
Located on the Greek island of Crete in the village of Agia Galini, the name Ring House is a bit of a misnomer since the home is shaped more like a horseshoe than a ring. It juts out from a scrub-covered hillside to offer panoramic views of the Mediterranean. Designed to be low profile, the rough stone and raw wood home is rugged in a way that mirrors the landscape. Capped by a roof of concrete that adds a streamlined, mid-century modern aesthetic, its low profile was designed so as not to compete with the natural beauty that surrounds it. Inside features all-minimalist style, which helps keep the focus on those stunning views seen through walls of windows.
The horseshoe shape of the house offers plenty of opportunities for a variety of outdoor spaces. In the center is a courtyard filled with the replanted native foliage as well as citrus trees and edible plants. Off to one side, facing the water, the overhanging concrete roof provides shade for a lounge area next to the luxurious infinity pool. At the "top" of the horseshoe, the roof overhang covers a patio outfitted with lounge chairs — the perfect spot for taking in those stunning views of the water.
Ready for more Greek seaside abodes? Check out Patio House, a brutalist-design in by Swedish architectural firm OOAK.
Editors' Recommendations