Patagonia and the Andes mountains are known for their jaw-dropping beauty. Everywhere you look, stunning natural scenes abound. However, it's also a place of extremes with dramatic temperature changes and volatile winds. One Chilean architect has taken up the challenge of creating simple yet stylish structures that can stand up to all the Andes can throw at them.
Casa R, designed by architect Felipe Lagos and his team at Tu Croquis, is a little black cabin sitting in the forest of Vilches, Chile. Many common architectural tricks were employed to ensure that the cabin was structurally sound and did not interfere with the surrounding trees. There is a sharply pitched A-frame-inspired roof which allows heavy snow to slide right off. The cabin was built on a raised concrete foundation set on steel beams, which ensures that tree roots underground were not affected during construction. The frame of Casa R is also steel, chosen for its resistance to fire and water — both dangerous elements that homes in Vilches have to face.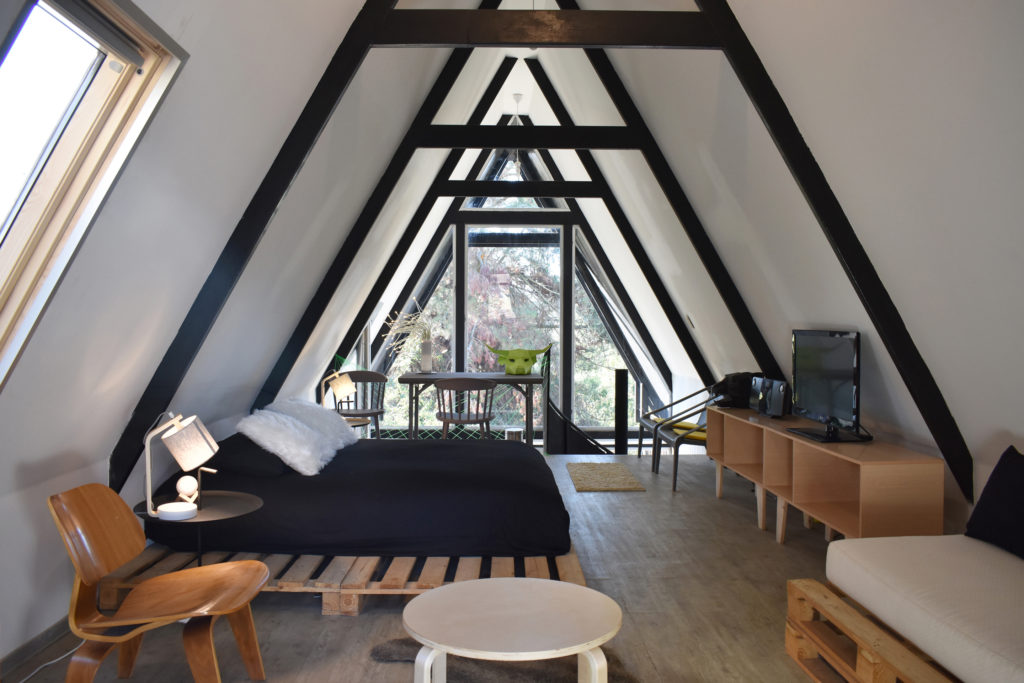 But there is also a uniquely Patagonian element that makes Casa R stand out. Lagos had to include a chiflonera on the front of the cabin. A chiflonera is a transitional space between inside and outside that acts as a buffer for the extreme wind and temperature changes that can arise in the Andes. The chiflonera provides a covered entry to the cabin, which features a stunning wall of glass to welcome guests. At the back of the cabin there is an extended chiflonera which also acts as a second entrance and a shed for firewood.
Unlike typical A-frame cabins, Casa R has a rectangular first floor. Here is where the living space is located, complete with a sitting area, kitchen, and bathroom.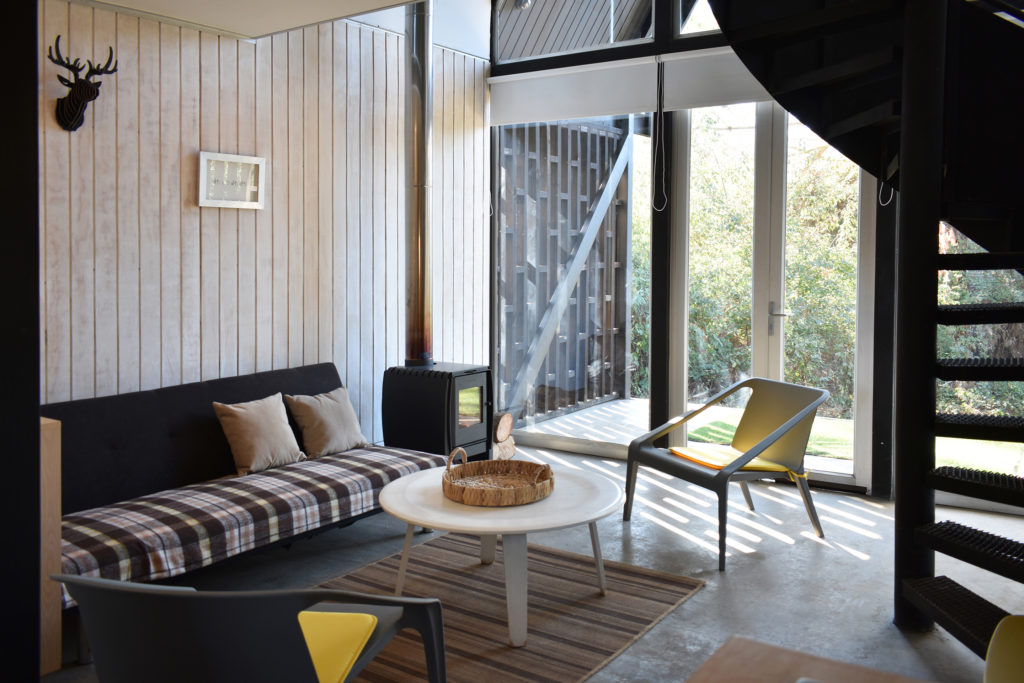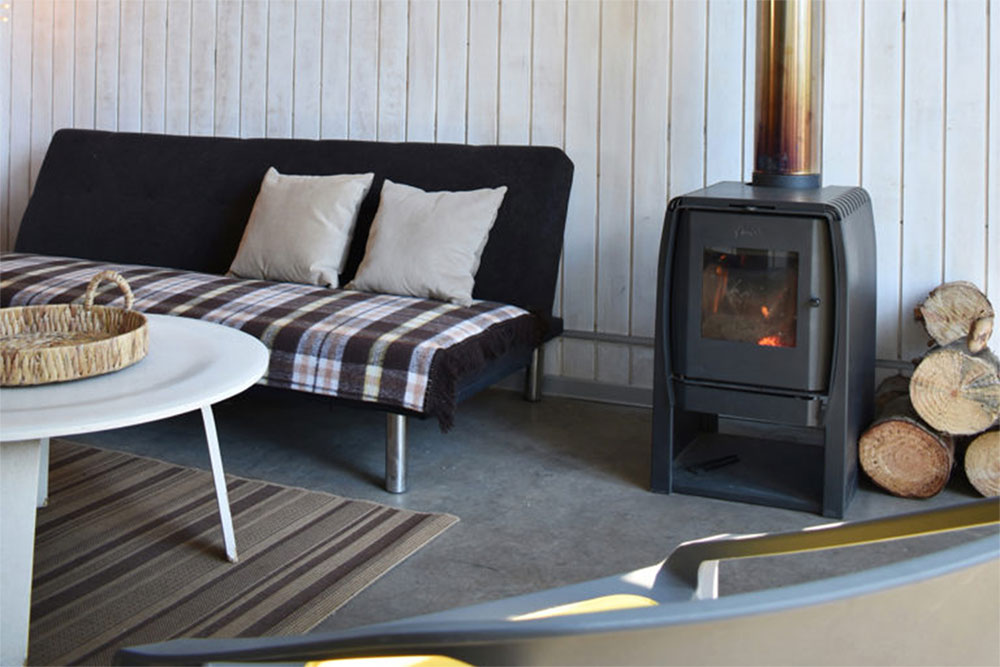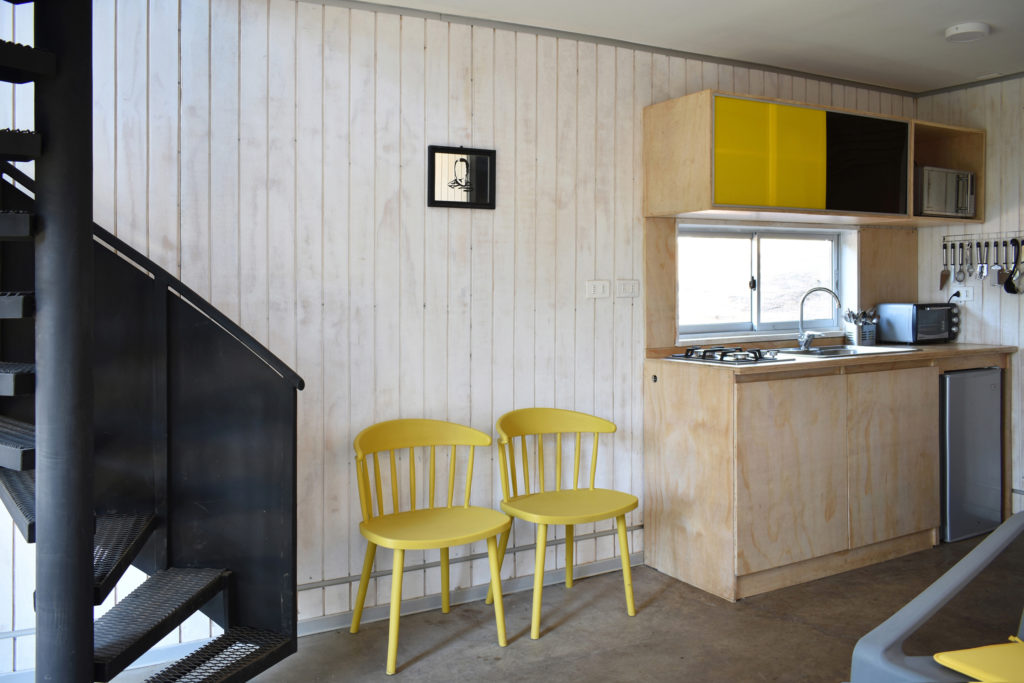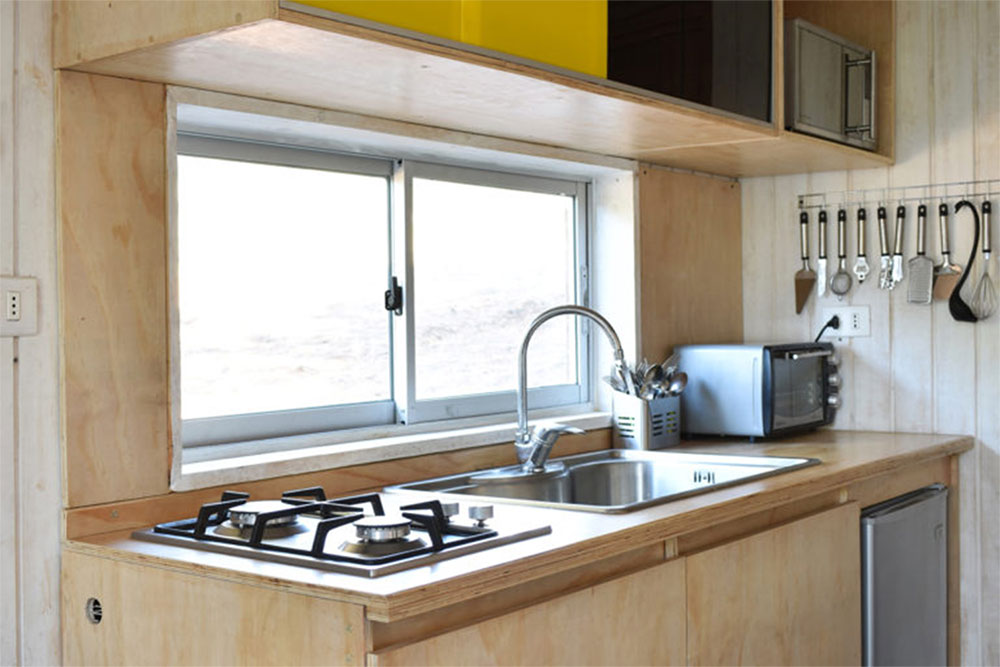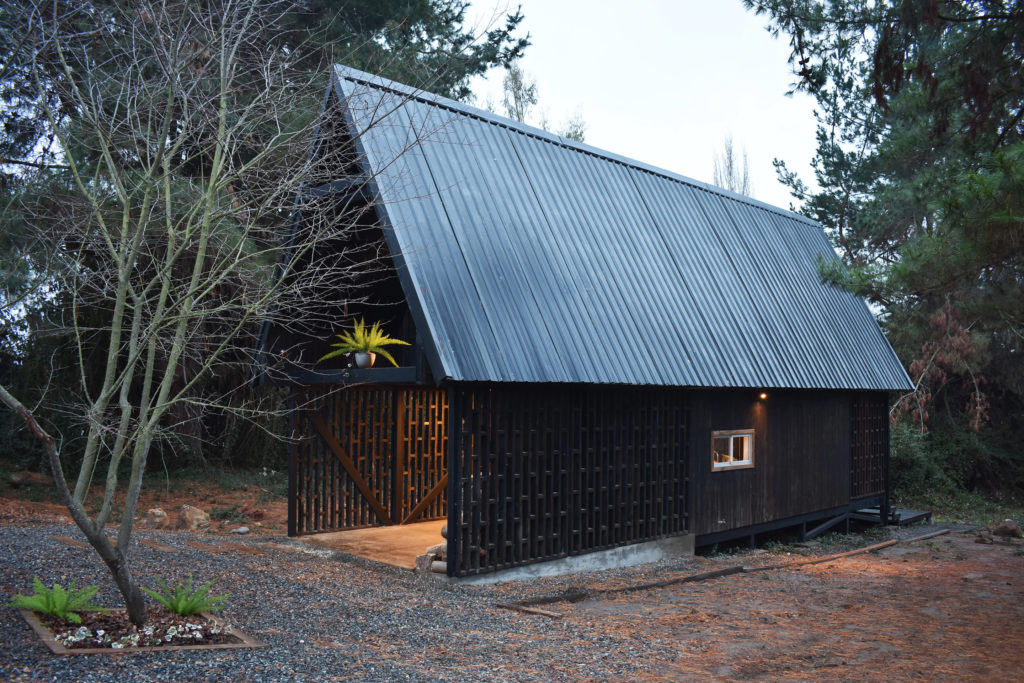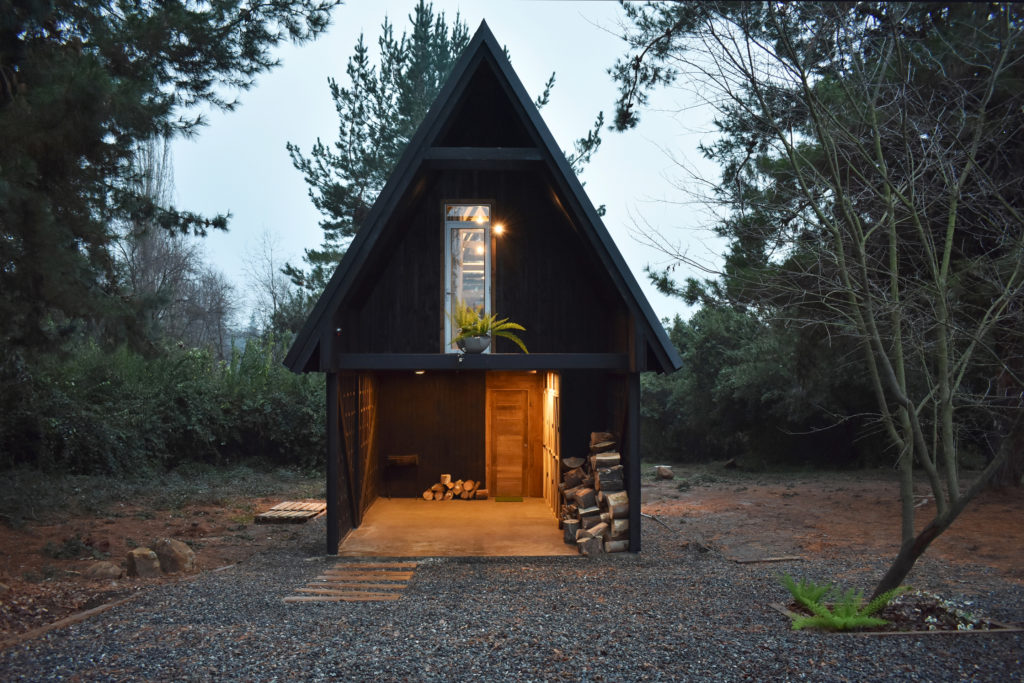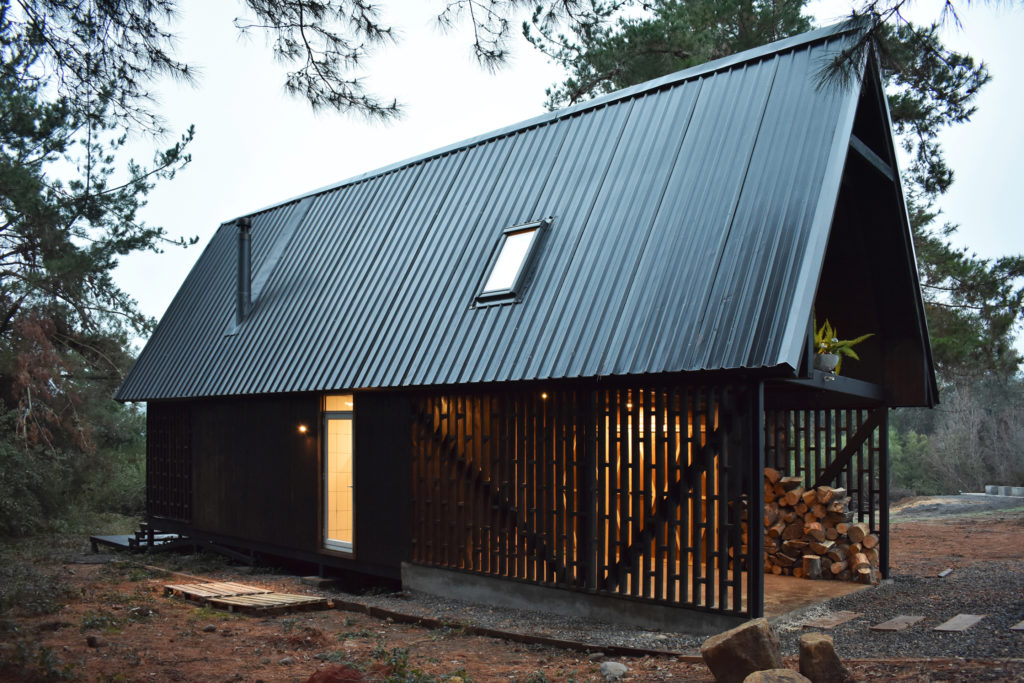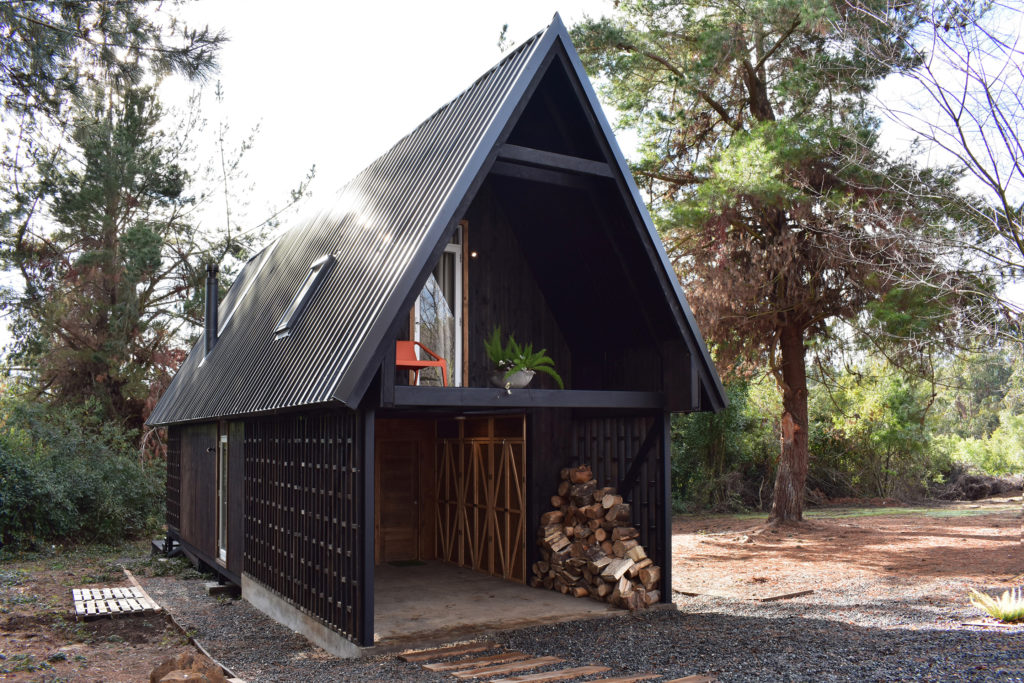 Warmed in the winter by a small wood stove, the sitting area furnishings are sturdy and feature cushions that can be used inside or out, letting residents turn the chiflonera into a porch on warm days. The simple kitchen, made up of plywood cabinetry, includes a two-burner cooktop, stainless steel sink, and minifridge. A translucent door to the bathroom allows for privacy while still letting natural light into the space.
A spiral staircase leads to the second floor bedroom. A writing desk is situated to look out the wall of glass at the front of the cabin and down to the sitting area below. The furnishings were kept simple and rustic with the bed and a loveseat made from wood pallets. The A-frame roof supports were left exposed for that traditional cabin feel and skylights let natural light fill the space during the day. Off of the bedroom is a patio that looks out to the surrounding forest, creating a serene spot to unwind in the evenings … provided the weather plays nice.
Editors' Recommendations