Sometimes customers really do know best. Such was the case for The Barn, a 2,400-square-foot guest house in the foothills of Wilson, Wyoming. When meeting to discuss the new build project, the owners of the property came prepared with inspiration photos of old barns. Architect John Carney of Carney Logan Burke Architects was skeptical at first. He wanted the couple to consider other forms for the structure. But they knew exactly what they wanted: a barn-shaped combination guest house, gym, and classic car garage for the husband. What they got was a space that is a traditional working barn on the outside, modern amenities on the inside, and mountain views that are so stunning, no guest will want to leave.
Completed in 2016, the Barn house was designed to combine classic barn elements with modern touches. The exterior features reclaimed barn wood and a cedar shake roof, while the interior of the second floor has exposed support trusses. Carney was sure to incorporate as many "barn" elements as possible, including a cupola, a pitched roof, and even hopper windows on the second floor inspired by the hay-loading openings of traditional working barns.
The modern touches become apparent upon stepping inside. The Barn house boasts all of the amenities guests could need for an extended stay, including a large soaking tub in the bathroom, a kitchenette, a walk-in closet, and luxurious bed that looks out onto the couple's 15-acre property.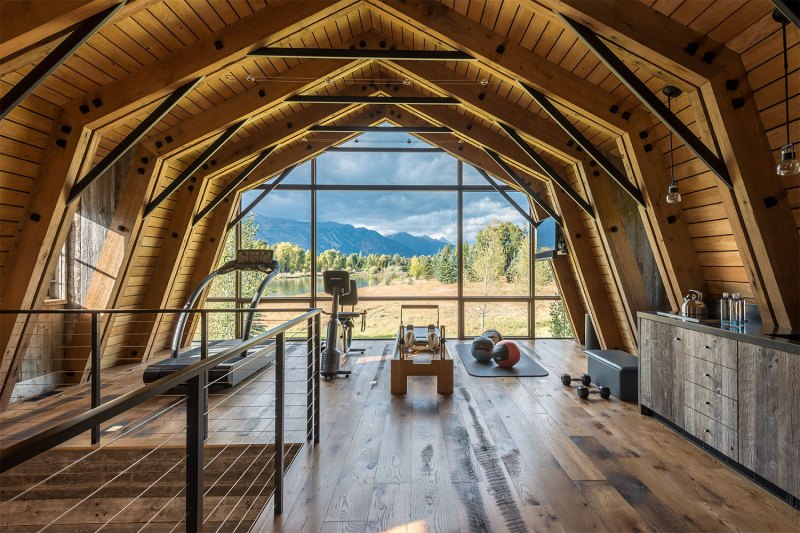 In the first floor garage, there is ample space for all of the owner's toys, including bicycles, dirt bikes, a dune buggy, and of course, vintage cars (including a VW bus). The space has a classic black and white checkerboard tile floor, reminiscent of a 1950s garage. A workbench and plenty of tool storage provide room for tinkering.
The second floor features the show stopper: a wall of glass that looks onto the Tetons and Jackson Hole Mountain Resort. It offers a jaw-dropping view of the property, the valley beyond, and the mountains. The wall of windows allows daylight to flood the space, highlighting the rough finish of the reclaimed wood paneling. It's no wonder the wife wanted this space for her gym. The view alone is motivation to hit the treadmill every day.
Article originally published July 11, 2017.
Editors' Recommendations