We all know that winter didn't get the memo that spring is finally here (a rare April snow storm even caused the Cubs to postpone their home opener). The best we can do as we wish for summer to get here is spend these chilly days longingly gazing at vacation homes, like this sleek lakeside retreat in Texas.
The ultimate dream is getting to build a vacation home at the place you spent your childhood summers. For the clients of architectural firm Lake Flato, they got that chance. Except for one small problem: The site they wanted to build on was impossibly steep. It seemed their dream vacation home would never happen. But then inspiration struck in the form of traditional fire watch towers and Blue Lake Retreat was born.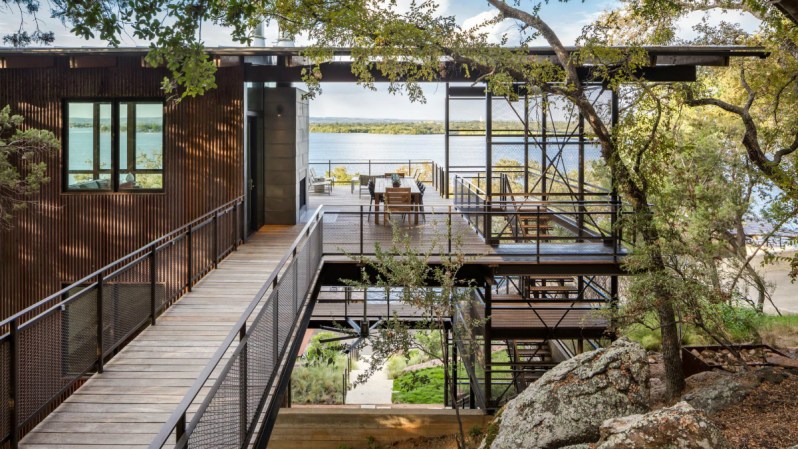 The home was designed to rise vertically, providing spectacular views of the lake from every floor and every room. Along with the unique shape, the architects also decided to work from the top down, situating the family room on the upper level to provide a 180-degree view of the natural surroundings. The bedrooms (four in total) are tucked into the first two floors, providing a bit of protection and privacy from the hillside, while balconies still give guests the opportunity to take in views of the lake.
One of the most intriguing parts of Blue Lake Retreat is the stairs. Located on the exterior — with that fire tower feel — the only way to access different parts of the home is to go outside. Red cedar cladding makes the black steel staircase pop. Visually this turns the staircase into an artistic focal point, while also giving guests a deeper connection to nature and the outdoors. At the base of the home, the concrete foundation which anchors the building into the hillside creates a cozy, protected outdoor lounge space.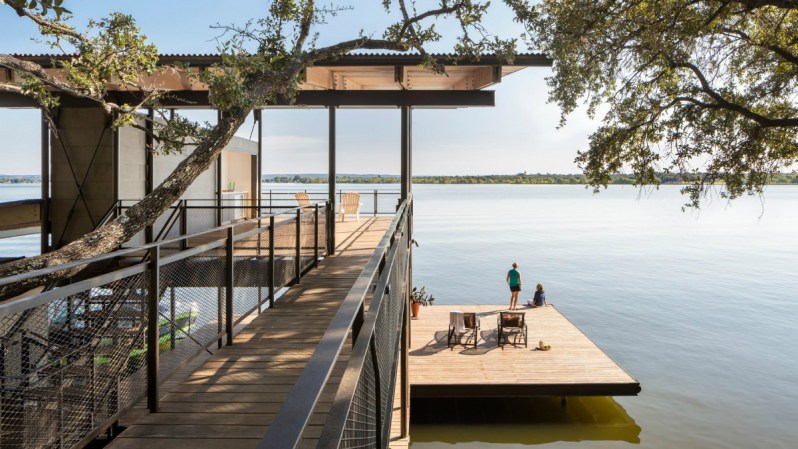 Inside, the home is decked out in simplistic Scandinavian style. Keeping finishes and furnishings basic allows the lake to be the star of the show. White walls, white oak flooring, and walls of windows keep the interior spaces feeling light and airy, while outdoor spaces and cantilevered decks provide plenty of places to relax outside.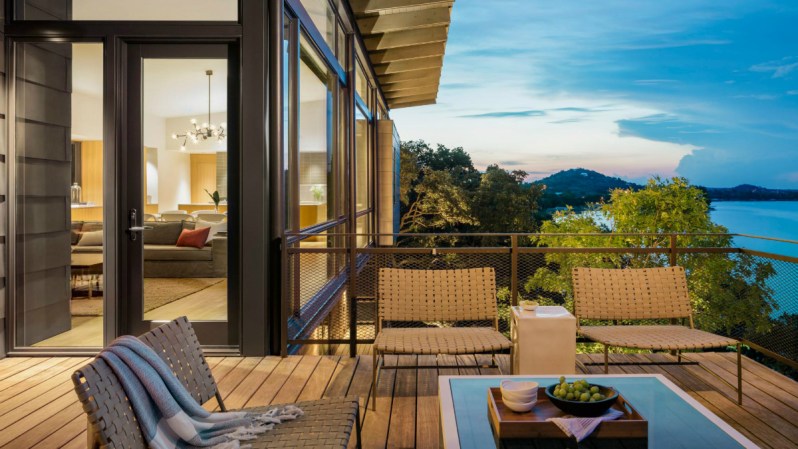 That is of course, if summer ever decides to show up.
And, if Blue Lake Retreat is a little too warm weather-focused for your style (who are you?), check out this cliffside retreat in Quebec.
Editors' Recommendations