In 1924, a men's clothing mogul commissioned the country's leading architect to build a stately pleasure dome on top of a hill in the Los Feliz neighborhood of Los Angeles. Nearly 100 years later, the edifice still stands, commanding a sprawling view over the metropolis below. Officially, it's known as the Ennis House. But you probably know it better as the apartment of one Rick Deckard, hard-boiled protagonist of Ridley Scott's 1982 noir/sci-fi film Blade Runner.
And — hold onto your hats — it's for sale.
The architect in question was Frank Lloyd Wright, and the home is one of only four built in this particular style. Wright called it his favorite, which is saying something. Even in an urban area as dense with experimental and innovative architectural styles as Los Angeles has always been, the Ennis house stands out as one of the region's G.O.A.T. That's not just us saying so — the L.A. Times panel of historians, architects, and preservationists all agreed on it.
Perched on a nearly an acre overlooking some of L.A.'s best views, including the Pacific Ocean on one side and the wilds of Griffith Park on the other, the 6200-square foot home features four bedrooms, three and a half baths, a detached garage with guest quarters, a pool, a koi pond, several built-in works of original art, and a whole lot of movie history. This monumental home has been featured in some of Hollywood's best sci-fi and adventure movies: The Day of the Locust, Mulholland Drive, The Rocketeer, Rush Hour, Beverly Hills Cop II, and of course, Blade Runner. It also shows up in TV shows such as Buffy the Vampire Slayer, Star Trek: The Next Generation, and Invitation to Love, the show-within-a-show on David Lynch's Twin Peaks. You can even see an animated version of the Ennis House in a South Park episode.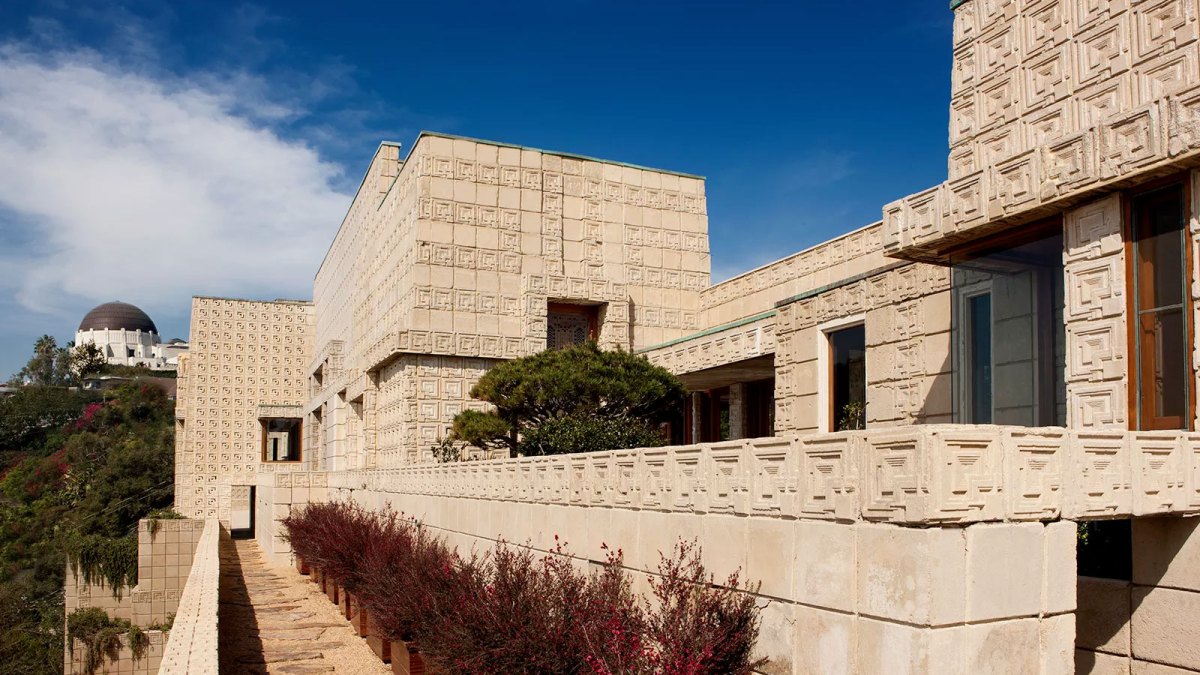 The house was designed to suit the particular tastes of one Charles Ennis, who was super into Mayan art and architecture. Accordingly, Wright customized the geometric outline, as well as the stamped pattern of the concrete blocks, to echo the pyramids of ancient Mesoamerica. Ennis also belonged to the Masonic Order, so Wright went the extra mile and embedded a stylized Greek key into the pattern. (We can just picture Ennis and his Freemason pals standing in front of those floor-to-ceiling windows and saying, with a throaty chuckle, "Together we could own this town.")
Of course, it wouldn't be a Frank Lloyd Wright house without innovative touches of the architect's own devising. Wright used the project to test out a method he called "textile block construction," where the concrete cubes were threaded together with steel rods that hold them in position. His goal was more than aesthetic — Wright believed concrete held a lot of potential as a material for affordable housing, and the Ennis house gave him the perfect canvas to test his hypothesis.
The interior of the house is just as commanding as the outside but softened by the changing shades of desert light. The sand-toned concrete offers a sun-warmed look to the awe-inspiring spaces and columnar corridors. One guest reported sitting at the dining room table and watching hawks circle overhead. Despite its imposing lines, it honors Wright's philosophy of naturalism. As he once said, "No house should ever be on a hill … It should be of the hill. Belonging to it. Hill and house should live together, each the happier for the other."
Over the years, the Ennis house passed from one loving set of multi-millionaire hands to another, each of whom invested hefty sums to keep the interior current and restore the property after the ravages of earthquake tremors and heavy rains. (As much as southern California is reputed to be a paradise, its weather conditions can be pretty hard on a house.) Since 2008, it has been designated as a California Historical Landmark and belonged to the National Register of Historic Places. However, as one of Wright's most livable houses, L.A. locals and architecture buffs hope that it will go on to serve as the setting for more than just memorable scenes in film and TV. As Wright's grandson Eric said in 2009, "My grandfather designed homes to be occupied by people. He created the space, but the space becomes a creative force and uplifts when it is lived in every day."
The Ennis House is jointly listed for sale by Beverly Hills–based real estate agencies Hilton & Hyland and Coldwell Banker for $23 million. Bid now, and you could throw your housewarming party just in time to coincide with Blade Runner's November 2019 time period. Go on — revel in your time.
It's not every day that a Frank Lloyd Wright house hits the market (although we have recently seen the Olfelt House, Haddock House, and Norman Lykes House for sale).
Editors' Recommendations