Black Friday deals are well underway, and early this year, which means it's almost time to start counting down to Christmas. The countdown can be a pretty fun endeavor with one of the best Advent calendars for men, but Black Friday also offers some opportunities to get the whole family involved. Retailers like Amazon have discounted a lot of Advent calendars among the current crop of Black Friday deals. You'll find Lego-themed Advent calendars discounted right now, as well as more traditionally-themed options.
Our Favorite Advent Calendar Black Friday Deal
Lego Marvel Avengers 2023 Advent Calendar — $27, was $45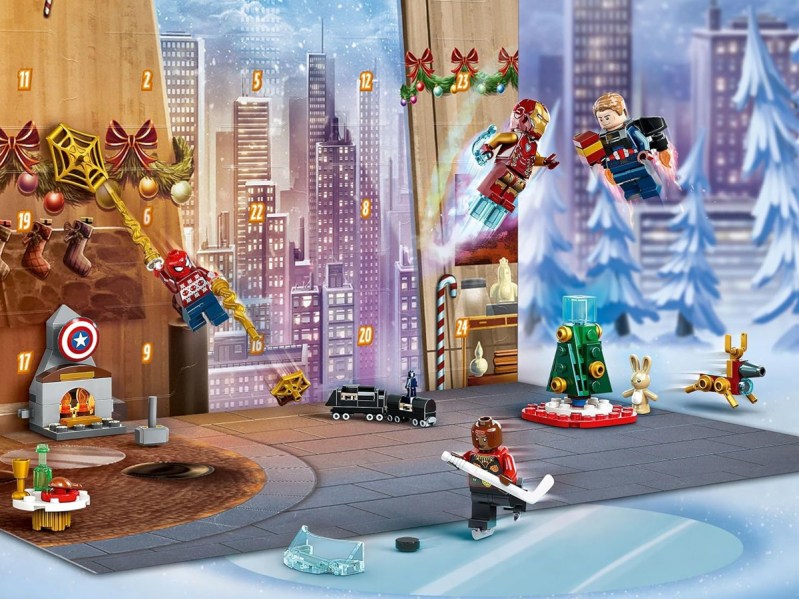 Children and adults alike can find some fun in counting down the days to Christmas. With an Advent calendar, the process typically begins on December 1 and culminates with Christmas morning. One Advent calendar deal that stands out to us this Black Friday shopping season is the Lego Marvel Avengers Advent calendar. Behind each of the 24 doors of this Advent calendar is a gift to kick-start a new adventure. These include seven superhero mini figures featuring the like of Captain America, Dr. Strange, Spider-Man, Black Widow, and Iron Man, among others.
The Lego Marvel Avengers Advent calendar also comes with a buildable play experience. You can build mini models that include a S.H.I.E.L.D. Quinjet, a jetpack, an ice hockey kit, as well as the Hydra Train and more items inspired by the Marvel Cinematic Universe. As Christmas day approaches you can mix daily surprises together to recreate favorite scene from the movies or create new Marvel adventures of your own. This Advent calendar is also compatible with other Lego sets, so you can expand beyond its limitations throughout the month of December or add this set to a current Lego collection as the clock to Christmas counts down.
More Advent Calendar Black Friday Deals We Love
But there are a lot of Advent calendars currently on sale for Black Friday, and they offer all sorts of fun experiences for the month of December. You'll find Advent calendars with themes inspired by National Geographic and Jurassic World, as well as more traditionally-themed Advent calendars with things like puzzles and brain teasers to unveil every day.
Brain Teaser Advent calendar 2023 —

Crystal Learning & Collection Advent calendar 2023 —

Christmas Stocking Stuffer Advent calendar 2023 —

Freshcut Woodland Wonderland Advent calendar 2023 —

Harry Potter Hogwarts Castle 3D Puzzle Advent calendar 2023 —

National Geographic Magic Advent calendar 2023 —

Fisher-Price DC Super Friends Advent calendar 2023 —

Thames & Cosmos Science Experiment Advent calendar 2023 —

Pancake the Penguin's Christmas Adventure Advent calendar 2023 —
Editors' Recommendations