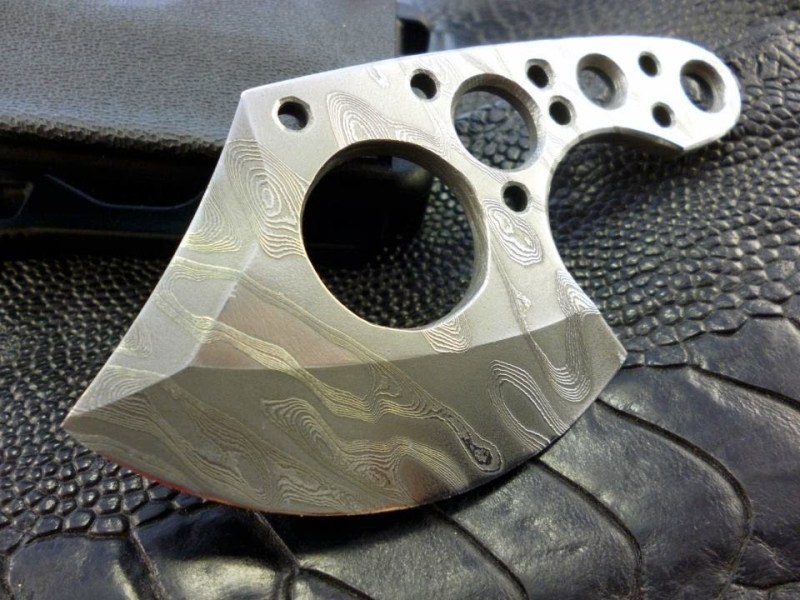 We bet you hear the word hatchet — a small ax with a handle — you think of Paul Bunyan-like man chopping down trees. Lucky for you, Joseph Bowen, a knife maker and tattoo artist with a family history of fisherman and blacksmiths, came up with a modern day version of the ax. Bowen, who took up side jobs as a blacksmith while honing his tattoo skills, never lost interest in knife making and it shows. The Joseph Bowen Micro Hatchet is small enough so that you can attach it to a string and wear it around your neck, but large enough that you can do some real damage with it.
Bowen used his skills and an Inuit-style Ulu blade that you can use with one hand. The blade is so sharp that it even can cut through bones. (Just don't kill anybody with it!) Bowen crafted the Micro Hatchet in a skeleton like manner to decrease its weight and so that it can be held with just one hand. The large center hole acts as an aid for different grip retentions. You can hold it with a three-finger grip or a reverse grip.
The hatchet also comes with a kydex sheath so you won't accidentally cut yourself when you wear it around you neck.  Use the hatchet to chop foliage while camping, slice up animals while hunting, or to cut your way through vines while hunting. At four inches long and a blade made of CTS-HXP steel, you can bring it anywhere with you really. Just don't do anything illegal with it. We wouldn't!
To inquire about ordering a Joseph Bowen Micro Hatchet, contact him at placasador at yahoo.com.